Calella de Palafrugell
Would you like to visit Calella de Palafrugell? At Girona Campsites, we want to help you plan your visit by offering a guide to the main attractions in one of the most beautiful towns on the Costa Brava.
Calella de Palafrugell
Dedicated heart and soul to the sea, the picturesque fishing village of Calella de Palafrugell exudes Mediterranean charm and the spirit of the Costa Brava. Despite the passage of time, you can still find the town's original narrow streets, traditional fishermen's houses and other unique elements that make this a truly romantic spot.
The beauty of Calella de Palafrugell can be glimpsed even from a distance, with its picturesque white houses nestled peacefully by the sea. And although you could spend hours strolling around the village, or having a break in "les Voltes" (a covered walkway), this town has much more to offer.
If you decide to visit Calella, you can enjoy cultural experiences, culinary events and nature activities all year long. Join us and find out more!
What to see in Calella de Palafrugell
To help you plan your visit to Calella de Palafrugell, we'll take you on a tour of the main attractions and recommend the most popular events that you should bear in mind if you decide to make a stop in this beautiful town.
Les Voltes
This spot next to the beach is probably the most photographed spot in the town.
Les Voltes is a covered walkway, a unique urban structure and an emblematic site on the Costa Brava. It's an ideal place to take a stroll or sit under one of "Les Voltes" (arches), and relax while looking out at the horizon.
And on hot days, you can enjoy an ice cream in its shade or at one of the terraces. Without a doubt, it's the perfect retreat after a fantastic day at the beach.
In the words of the renowned writer from Palafrugell, Josep Pla:
"The view of the sea through a series of aches… Is there anything more prodigiously beautiful? The diversity of the sea against the crown of an arch, against the start of the pier of an arch… Can there be anything more pleasing to human balance?"
Els Jardins de Cap Roig
Very close to Calella de Palafrugell, you will find the incredible Cap Roig Gardens. Spanning some 20 hectares and boasting over 800 botanical species, this garden, created in 1927 by Russian Colonel Nicolai Woevodsky and English aristocrat Dorothy Webster, has become one of the most notable of its kind in the Mediterranean region.
This spectacular garden full of colourful native and exotic flowers can be visited at any time of the year thanks to its location, sheltered from the tramuntana (northerly wind) and with a pleasant, mild climate all year long.
Click here for more information.
Festival Jardins de Cap Roig
The Cap Roig Gardens also hosts one of the most prestigious music festivals on the Costa Brava, the Cap Roig Gardens Festival. Every year, internationally renowned artists travel to Calella de Palafrugell to delight us with their music.
Click here for more information.
Cantada de habaneras
Another great event in this beautiful town is the Calella de Palafrugell Habanera Concert, which has been held since 1966 in the cove of Port Bo, the perfect setting for a great habanera show. Audience members can enjoy the musicians' performance from the sand, "Les Voltes" or nearby boats that approach the stage to bask in the beautiful maritime music.
If you want to attend this spectacular show, we recommend you buy tickets early, because there is high demand. Once you're there, in addition to listening and singing along to the songs, you can't leave without trying a "Cremat", a rum-based drink, which is very popular at this type of concert and will transport you to a purely maritime setting.
Footpath from Calella to Llafranc
In just half an hour, we can go from Calella de Palafrugell to Llafranc, along one of the most beautiful and gentle footpaths on the Costa Brava. The route is not physically demanding, and it is very well maintained with some ramps and steps.
During this little excursion, you can enjoy beautiful views of the sea from the vantage points, enjoy the smell of Mediterranean pine trees and take a relaxing stroll passing the stately homes.
You can find out more about footpaths along the Costa Brava here.
Beaches in Calella de Palafrugell
Port Bo or Les Barques Beach
Port Bo Beach, also known as Les Barques Beach, is the most painted beach in the town. This is where the traditional Calella de Palafrugell Habanera Concert is held. The audience sits on the sand listening to the songs played by the musicians from the boats.
What's more, from a distance, this beach offers exceptional panoramic views of the whole village, with the sea in the foreground, the boats on the sand, the iconic "Les Voltes" arches and the white houses in the background. It's a scene out of a postcard!
Although less well known than Port Bo, Port Pelegrí Beach is a very pretty beach where you can enjoy a nice swim in the clear waters. One of its unique features are the fishermen's huts with coloured doors, located right on the sand.
This beach is located to the south of the town, and is a fantastic option if you want to enjoy a day at the beach, especially when Port Bo is very crowded.
Cala el Golfet (Golfet Cove)
Very close to the Cap Roig Gardens is Golfet Cove. Surrounded by nature, this beach is the wildest and in the least built up part of the town. As it is a small cove, far from the town centre, it has no amenities. Unlike the other beaches, here you can enjoy peace and quiet and experience a different kind of beach.
If you like snorkelling, you will be able to glimpse numerous species of fish and underwater plants on the rocky seabed.
A long time ago, Canadell Beach was a wild beach with only fishermen's huts. It is now one of the most popular beaches in Calella de Palafrugell, due to the tourist flats on the beach front and the beautiful promenade that runs along the top of the beach.
As you would expect, this beach offers all kinds of services as well as kayak hire.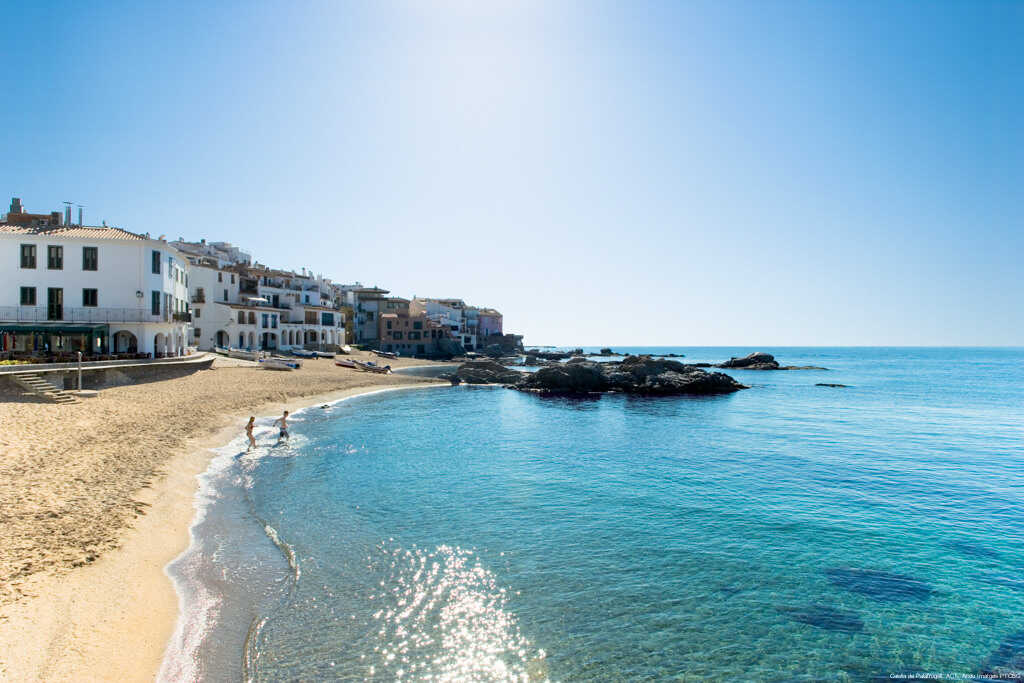 Vantage points in Calella de Palafrugell
Visitors to this pretty fishing village can admire its beauty from several different vantage points. Here, Girona Campsites highlights some of the best-known ones:
La punta de les Burricades.
Between Port Pelegrí Beach and La Platgeta Cove, you will find the Punta de les Burricaires vantage point, a stretch of rock and natural earth that juts out into the sea and offers a magnificent panoramic view of the white houses of Calella de Palafrugell.
Carles Sentís vantage point.
Located in the village itself is the Carles Sentís vantage point, named in honour of this journalist and writer who, like many of us, also fell in love with Calella de Palafrugell and was the place he would go when he wanted to get away for long periods of time.
This vantage point features a distinctive steel sculpture of a stack of books. If you stand in front of it, you can enjoy views of the Canadell and Canyissos Beaches.
This vantage point on the cape of Sant Sebastià is probably the best known in the area, not only because of the beautiful views it offers, but also because of the lighthouse and restaurant located at the top.
This is a prominent natural and architectural spot on the Costa Brava, due to its various points of interest such as monuments, an Iberian settlement, a hermitage and a wooded area full of Mediterranean pines. Without a doubt, this is a place where you can lose yourself and enjoy the summer sunsets.
Where to eat in Calella de Palafrugell
As in most Costa Brava towns, you will find high-quality restaurants in Calella de Palafrugell. Some of them also have beautiful views of the sea, such as the terraces located in the "Les Voltes" area or the beach bars.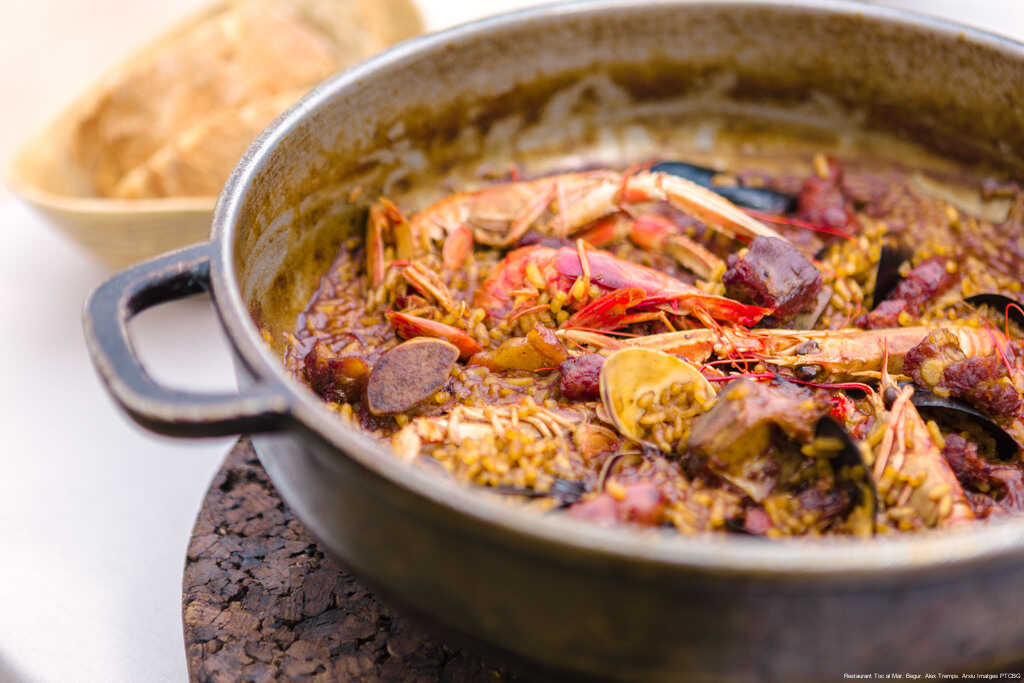 List of the 10 best restaurants in Calella de Palafrugell, according to TripAdvisor:
Calau
Chez Tomàs
La Blava
BarK
Fiego
Restaurant Hotel Casamar
Sol i Mar
Marmara
Leon
El Balco de Calella Restaurant
Weather in Calella de Palafrugell
If you're thinking of visiting Calella de Palafrugell, we recommend that you first check the weather to make sure you choose a sunny day. Check the 7-day weather forecast in Calella de Palafrugell on this website.
How to get to Calella de Palafrugell
The best way to get to Calella de Palafrugell is by car. Depending on where you are travelling from, we recommend you take the AP7 towards Girona and follow the signs to Calella de Palafrugell. Calella de Palafrugell can also be reached by public transport, with the SARFA bus service. It should be noted that it is quite a long route, and you will have to adjust your plans to the timetable.
Parking in Calella de Palafrugell
On busy days, parking in the centre of Calella de Palafrugell can be quite a challenge. In addition, most of the existing parking is blue zone or private pay car parks.
If you get away from the centre, you will probably be able to find a space free or charge, although you will likely have to drive around a bit. We recommend you arrive in the village early, when you'll find the most parking spots, otherwise you'll have to wait for someone to leave.
Campsites in Calella de Palafrugell
If you are looking for a campsite in the Calella de Palafrugell area, you can check out the family-oriented Camping Calella de Palafrugell, 400 m from the town.
The campsite is perfect for those who love the sea and outdoor activities. What's more, it's located in some woods, so you can enjoy a few days in the heart of nature and truly get away. It has all the amenities you need for a great holiday including a supermarket, tennis court, football pitch, swimming pools, Wi-fi, among others.
Now that you know everything there is to know about Calella de Palafrugell, you just have to visit this beautiful fishing village.
We're sure you will love it!