Cycling route through the medieval villages of the Baix Empordà
13 de augustus de 2020
Whether for its beautiful landscapes or its cultural heritage, Girona province is a region worth exploring in depth. Nestled among the green Girona Pyrenees and turquoise Costa Brava, numerous hidden corners are waiting to be discovered.
Indeed, there are tonnes of places and several ways to explore. We know many of our readers are cycling aficionados. Therefore, we suggest a route for visiting the medieval villages of the Baix Empordà. It's like travelling thousands of years back in time! This medium-difficulty route spans around 46 km if you head as far as Pals. Otherwise, it's approximately 38 km. We recommend bringing your mobile phone because you'll want to take plenty of photos along the way. Ready to get started?
We suggest beginning your excursion in the small town of Púbol and continuing along the roads connecting the multiple medieval villages in the area. Púbol is a town imbued with a unique ambience of peace and tranquillity. This is probably why Dalí chose this spot for the rest and relaxation of his beloved Gala. If you have time, we recommend visiting an 11th-century medieval building that Dalí restored for his wife, now known as the Castell Gala Dalí. We also recommend the Gothic Church of Sant Pere, a single-storey building built between the 13th and 14th centuries.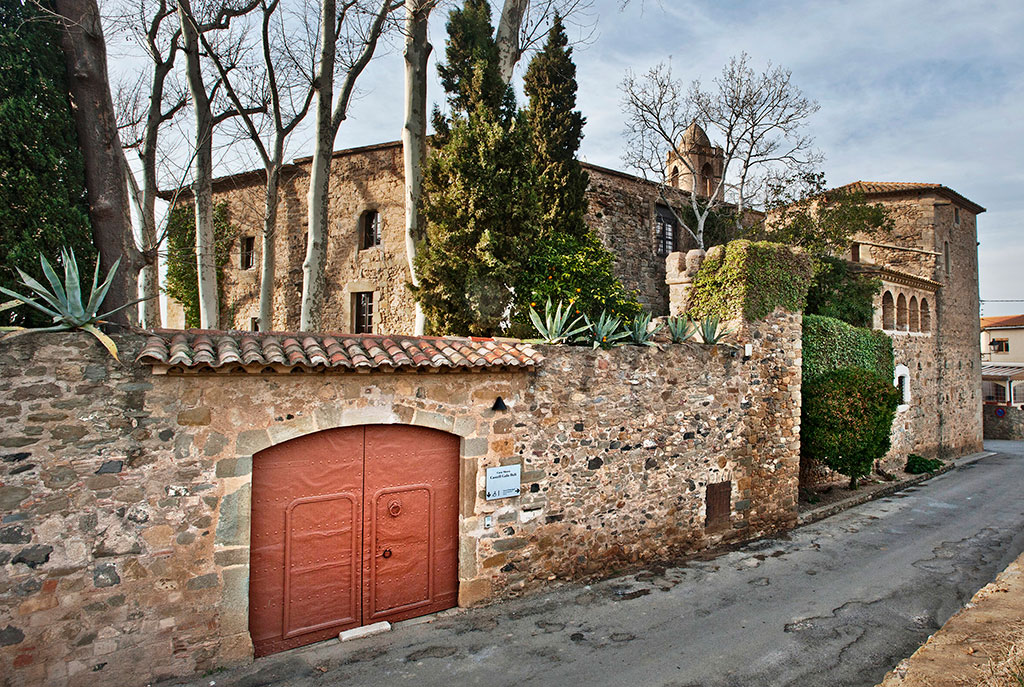 Take Avenida de San Francisco de Asís towards Girona and then the GIV-6425 road turning left. Just five kilometres away, on a small hill, lies Madremanya. When approaching the village, you'll make out the silhouette of the Church of San Esteve, in Romanesque style. Nearby are a set of houses formerly surrounded by a wall, still visible in parts of the town. If you choose to visit Madremanya, wander around its quaint, narrow, cobbled streets. However comfortable you feel in this charming spot, we need to continue our trip!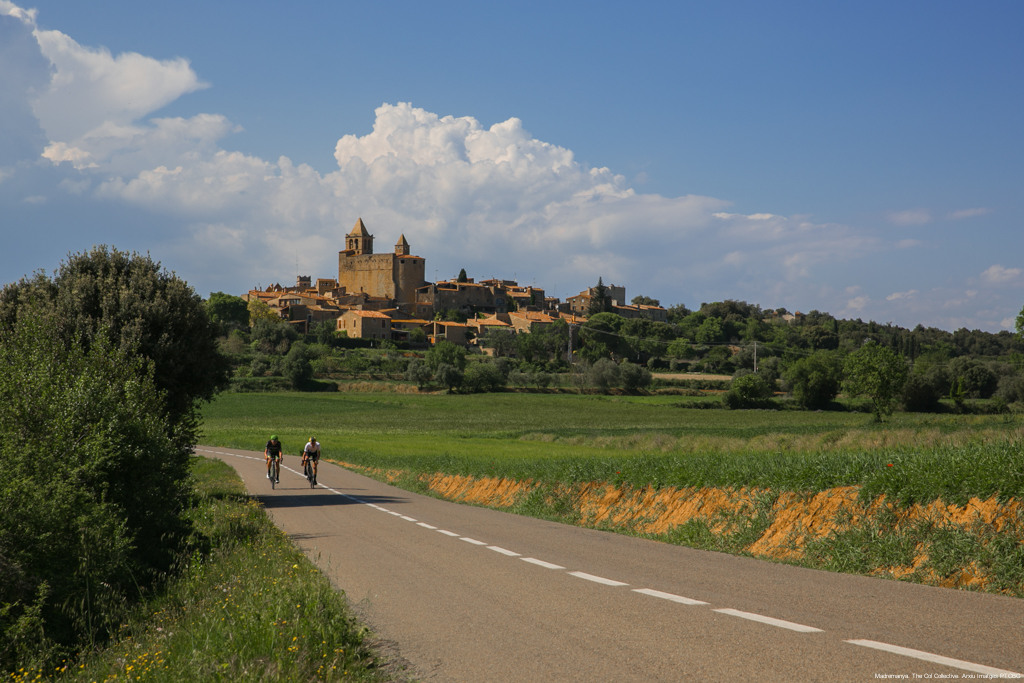 Our next stop is in Monells!
Get back on your bike and continue along Avenida de Les Gavarres. You'll reach the GIV-6701 road, where Monells is signposted to the left. The town is around 15 minutes away. This charming little place has been the setting for numerous films, including "Ocho Apellidos Catalanes" (Spanish Affair 2). We recommend stopping in the iconic Jaume I square, one of the town's highlights and the perfect spot to get your energy back with a meal in one of the local eateries.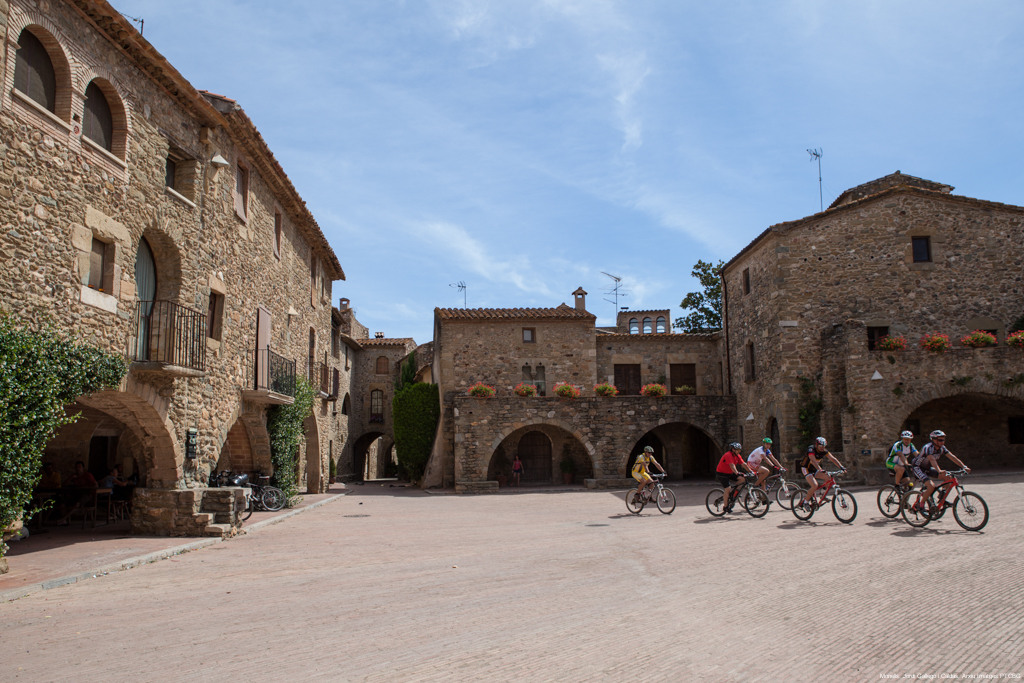 After stopping in Monells, find the dirt track starting on Carrer de la Riera Seca to reach our next destination, La Bisbal d'Empordà. Just before entering the village, cross the C-66 road under a bridge and turn right. The town is the regional capital and is home to a major medieval legacy. Strolling around winding streets, you'll learn that a Jewish quarter was established many years ago. If you have the chance, visit the Ceramics Museum and the craftsmen working with this material. In La Bisbal d'Empordà, ceramics is an art and trade still very much alive.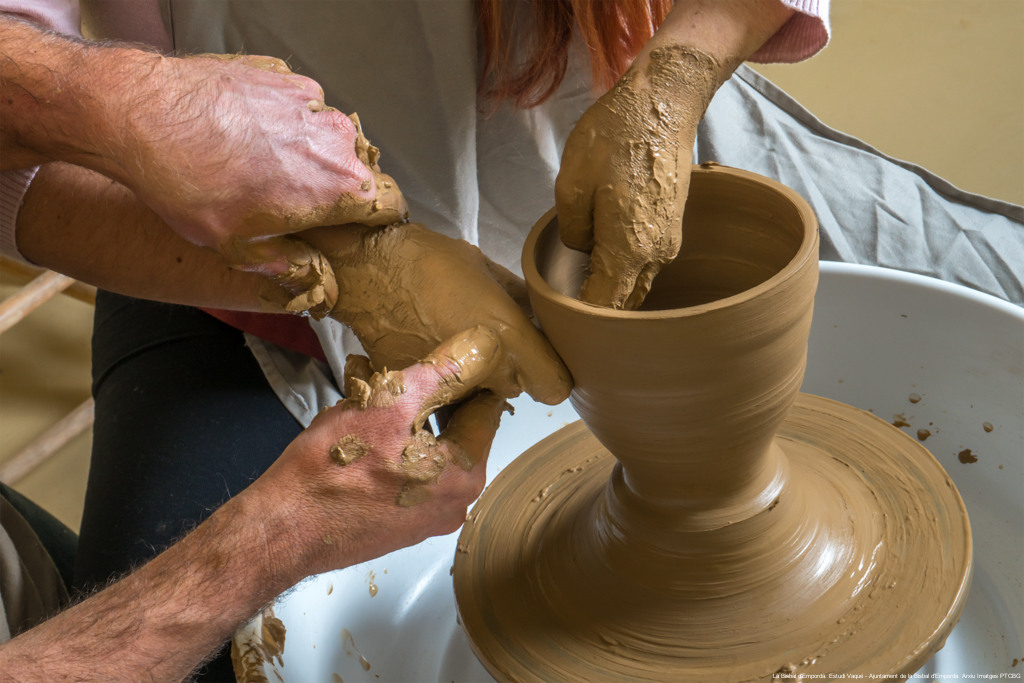 Get back on your bike and continue towards Vulpellac. Take the Camino del Pi, which continues after Carrer de la Solidaritat. This will only take ten minutes. If you fancy a stroll in Vulpellac, you'll bear witness to the fact that the 200 or so inhabitants are extremely fortunate to live in a stunning location. The town's old quarter is considered a Cultural Asset of National Interest.
After exploring Vulpellac, find Carrer de Santa Basilissa, which leads out of town and towards Canapost. Continuing along the same road, we cross the Vulpellac stream and later the GI-644 road, finally reaching Canapost. Check out the Sant Esteve church, half Romanesque and half pre-Romanesque. Remains of Roman and later settlements have been found here.
Peratallada is our next destination. Although there are internal roads for reaching this village, we recommend taking the GI-651 road because it's usually quiet. Continue until Carrer de la Roca on the right, which leads into the village through one of the gates in the wall. The town's name in Catalan is perfect: meaning it was sculpted in stone. Walls, towers, castles, arches and vines clinging to the walls of the buildings making up this small medieval town. A feudal dimension makes Peratallada one of the most important centres of medieval architecture in Catalonia. Who wouldn't want to stay in this beautiful, fairytale-like village?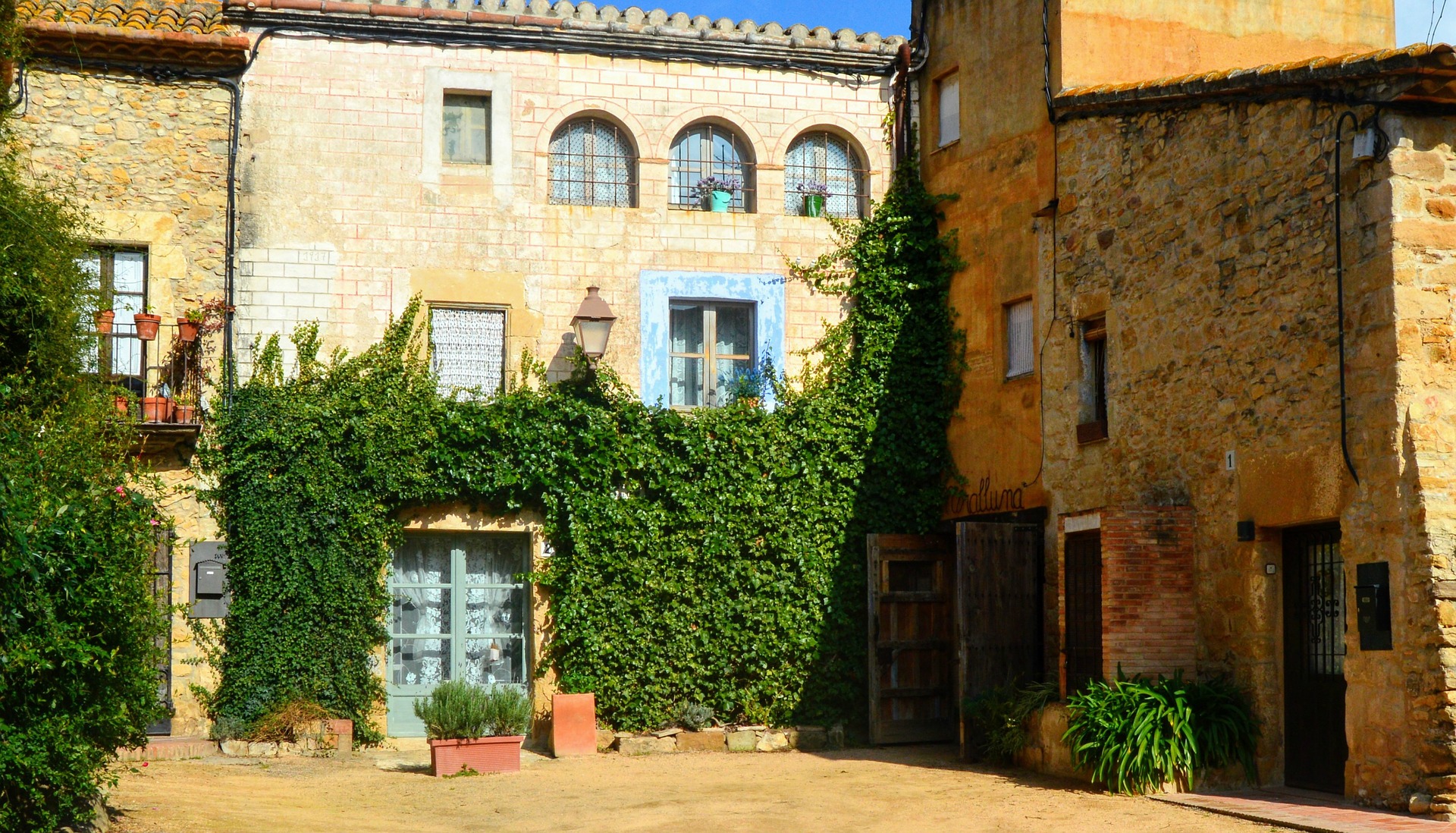 After Peratallada, there are two options. Head towards Palau-Sator to complete a circular route, or onwards to Pals and extend the journey by around an hour. Both choices involve returning to the GI-651 road and continuing in the same direction as before. If we choose the first option, there's a turning to the left a few kilometres from Peratallada, which heads directly to Palau-Sator.
If you want to visit the majestic medieval town of Pals, continue along the same road as far as a roundabout. Take the first exit towards Sant Feliu Boada. Follow this road until reaching another turning to the left, where there's a sign to Pals, which is not far away. Strolling around this quaint village is like travelling back in time, where several architectural styles blend and make this a unique part of our cultural heritage. We also recommend visiting the Josep Pla viewpoint to admire vistas of Montgrí and the Medes Islands. After a look around Pals, continue the journey towards Palau-Sator by returning along the same road as before, then heading right at the above mentioned turning.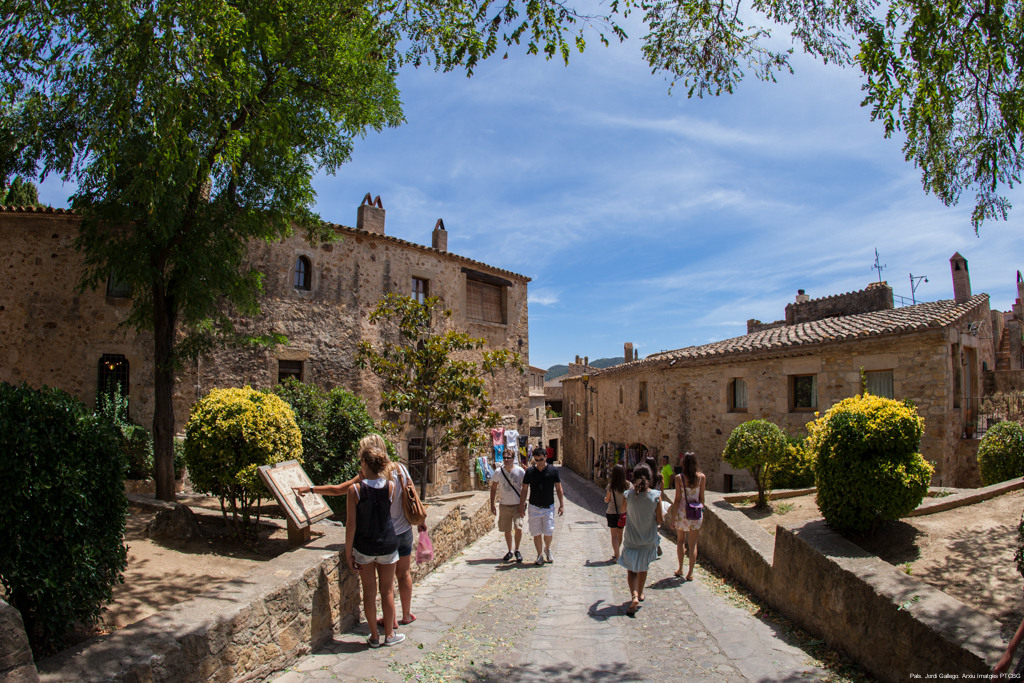 On the way back, before reaching Púbol, we recommend stopping in Palau-Sator for a stroll around its winding roads and Ullastret, where you can visit the castle, church and the Iberian site of the same name.
If, after reading about this excursion, you fancy cycling through the medieval villages of the Baix Empordà, what are you waiting for? Pack water, sunscreen and food, and bring lots of energy! You'll have a wonderful time!
Let's go cycling!
Inspíra't