Lloret de Mar
Lloret de Mar is surely a place that should not be missing from any travel plan on the Costa Brava, and today you'll find out why. Let's go!
The great tourist tradition of Lloret de Mar
Apart from being a town with a millenary history that appeared on maps back in Roman times, Lloret's boom began in the 19th and 20th centuries.
Lloret was a very important commercial hub in the textile industry, a fact which is reflected in the city's streets. This, together with its superb location on the Catalan coast, made it a place considerably akin to tourism.
Nowadays, Lloret de Mar is one of the most popular tourist destinations in Spain. But apart from all the usual tourist attractions, Lloret conceals great cultural and natural riches that we would like to show you in today's post.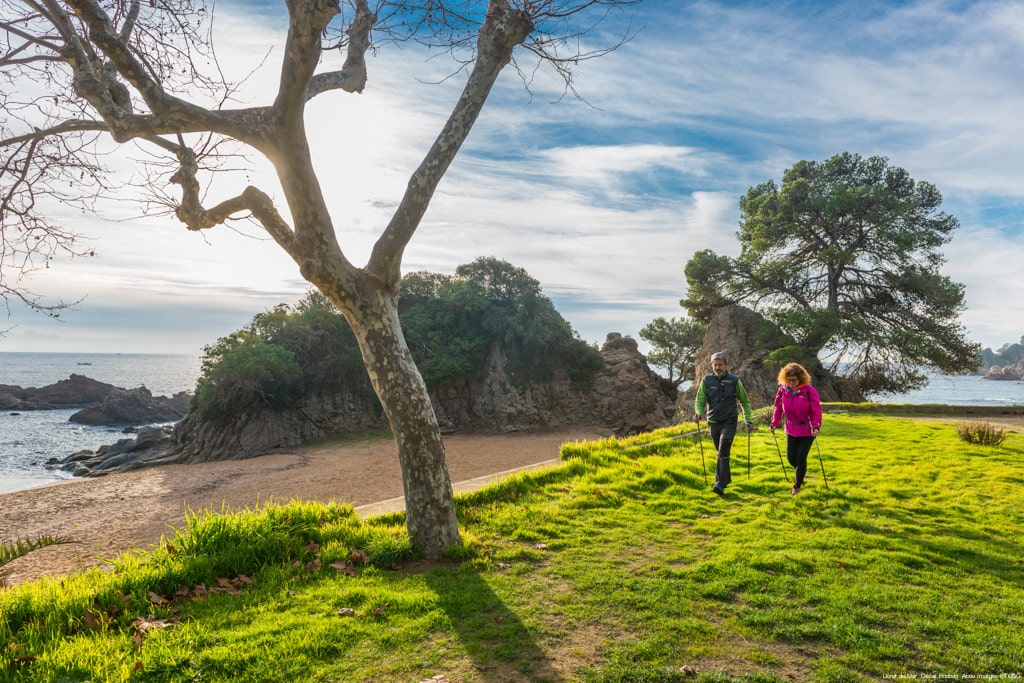 How to get to Lloret de Mar
Located in the southern Costa Brava, the town of Lloret de Mar is almost halfway between Barcelona and France, thus making it a popular destination for tourists from all over the world.
There are many ways to get to Lloret de Mar, as it is an important location in the region and has many connections.
By road
If you want to go by car to Lloret de Mar, you only need 60 minutes from Barcelona, 30 minutes from Girona or 90 minutes if you come from Perpignan. It is therefore a central location and easy to reach thanks to the AP-7 and C-32 motorways that pass nearby.
In addition, there is an international bus terminal that receives every day in high season a large number of tourists from all over the world who prefer the comfort of a bus and thus save themselves the trouble of looking for a parking space.
Parking in Lloret de Mar
Once coming to Lloret de Mar by car, it is crucial to know where to park beforehand, in order to save time and money looking for the right spots to park your vehicle. With your car parked, the best way to visit Lloret is on foot, but don't worry, you won't have to walk too far!
There are several options for parking your car in Lloret de Mar, some of them free and others for a fee.
The payment options consist of regulated parking zones on the town street and also in some of the guarded car parks in areas suitable for large numbers of vehicles.
Free parking in Lloret de Mar is possible, but you have to go to the outskirts of the town and you are not always guaranteed to find a space, especially in summer.
If possible, it is always advisable to leave the car parked in the hotel or campsite car parks and travel on foot or by bus to points of interest such as the town centre or the surrounding beaches.
By train or plane
It is also possible to reach Lloret by train, although not directly. The nearest station is Blanes station, with direct connection to Barcelona. Buses leave from there every half hour and you can get to Lloret in no time at all.
If you are coming from further afield, you may arrive at Girona or Barcelona Airport which, as we have said, are not very far by road, either by bus or your own vehicle.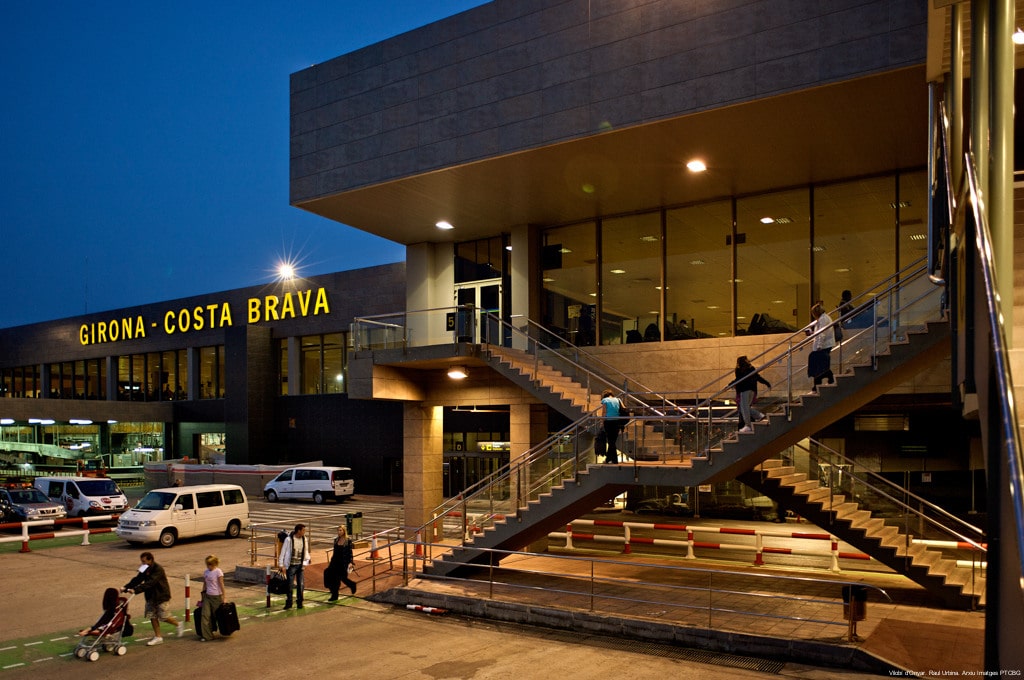 What to do in Lloret de Mar?
Lloret de Mar is, as its name suggests, a coastal town and for this reason, the main tourist attraction is its beaches and coves, which we will list below. 
However, Lloret is not all about large-scale tourism and paradisical beaches, as the importance of this town throughout its history has left its mark with a large number of monuments that are well worth a visit.
Here are just a few of them, but if you would like more information or to buy tickets in advance, you can visit the website of the Lloret Open Museum!
Visiting Lloret de Mar Castle
The first point of interest that stands out in the town, is the Castle of Sant Joan de Lloret de Mara fortification perched on a cliff overlooking the sea.
Its defensive tower built in the 11th century, together with the rest of the ensemble, was an important element for the control of the region and its privileged position gives it incredible views of the sea that you too can enjoy if you pay it a visit.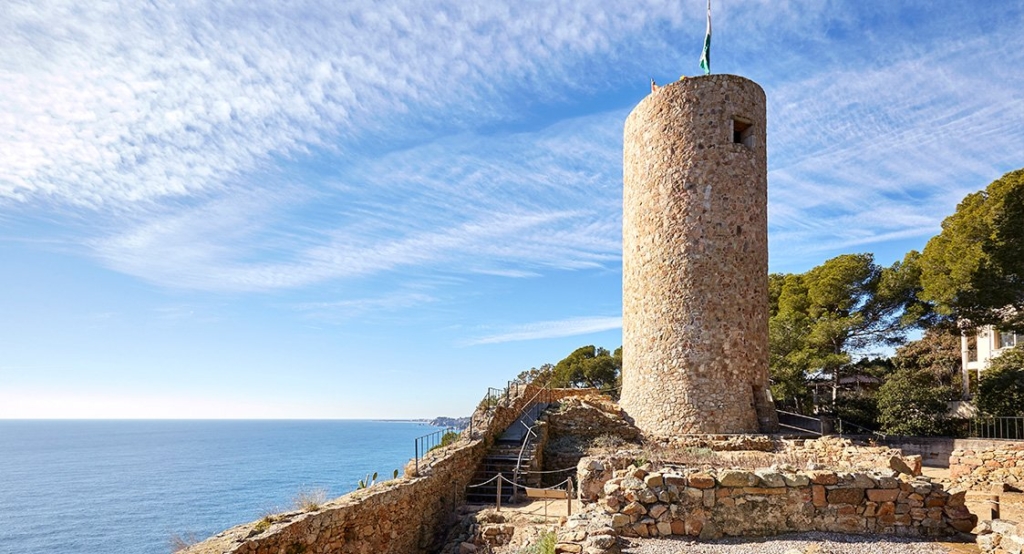 Admiring Modernisme in Lloret
Thanks to its growth during the 19th and 20th century, there are many Art Nouveau buildings in Lloret de Mar that leave those who visit them in awe.
One of the buildings that stands out for its colour and the elaborate shapes, typical of Catalan Modernisme, part of the Art Nouveau movement, is the church of Sant Romà in the middle of the village, which you can't miss as you stroll through the streets of the town centre.
You should also know that Lloret de Mar is home to the only cemetery in the counties of Girona that is part of the European Cemeteries Route. The aim of this route is to showcase the artistic and historical legacy hidden in cemeteries, places that are rarely visited by tourists.
The Art Nouveau cemetery of Lloret is a unique jewel that is definitely worth a visit. There you can admire all the characteristic features of Art Nouveau architecture, but applied in a cemetery.
Finally, you also have the option to visit the Can Font House Museum, an example of an Art Nouveau manor house that preserves all the elements of the period, accompanied by the corresponding explanation. What's more, you can take a virtual tour!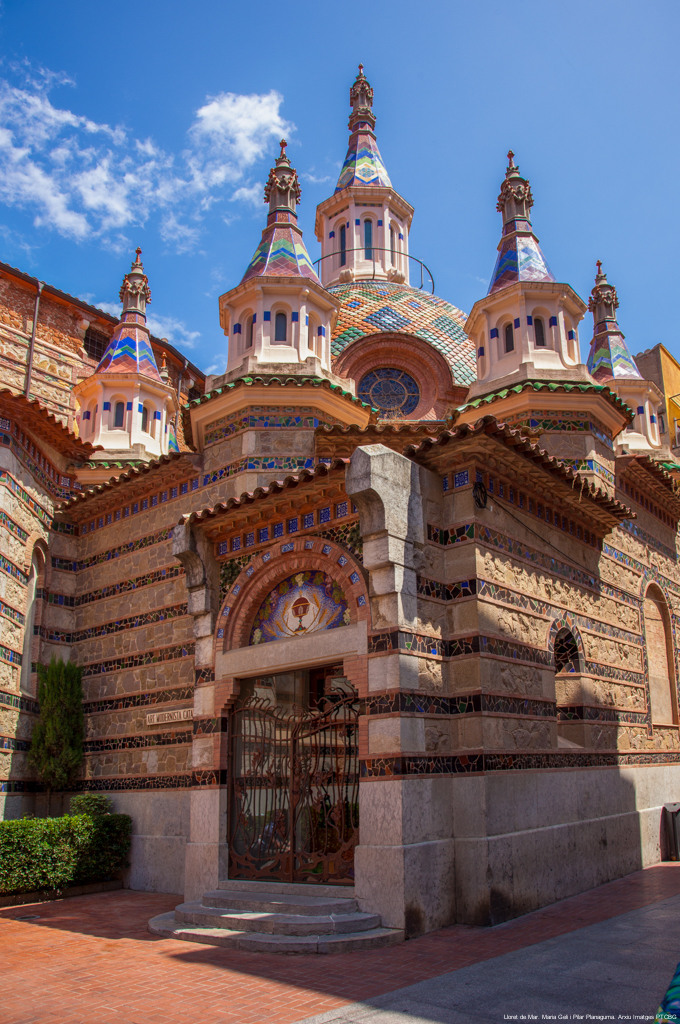 Strolling through a noucentista garden
At the top of a cliff stand the exuberant gardens of Santa Clotilde, in the noucentista style, which still conserve many elements of this artistic movement.
Long staircases well integrated into nature and direct views of the sea will transport you back more than a hundred years in a peaceful, enjoyable stroll in a superb setting.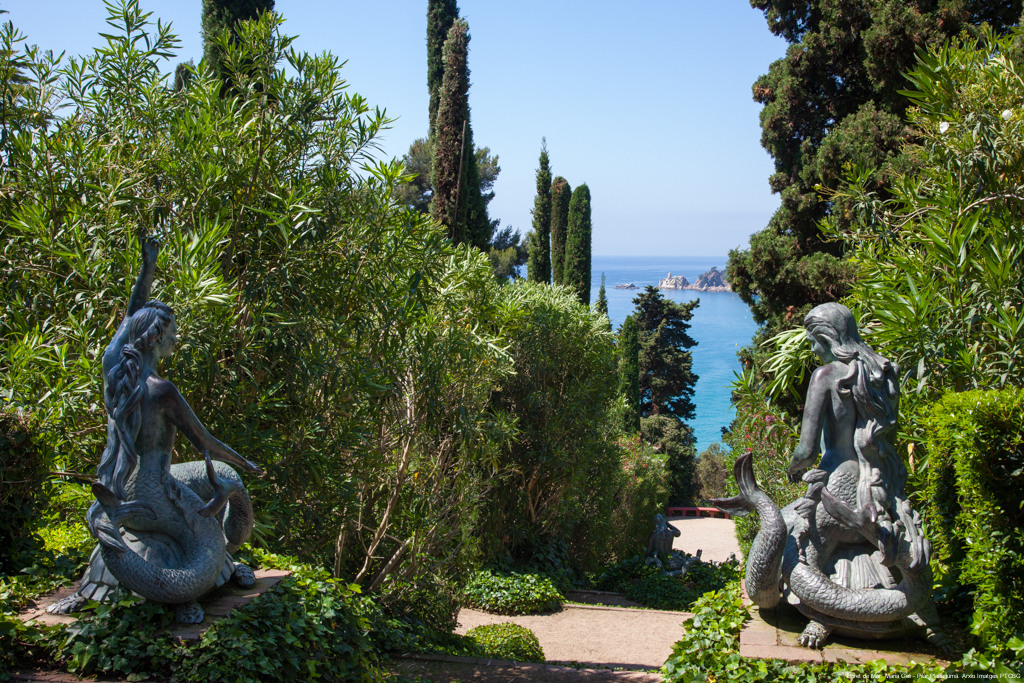 Cool off at Water World
A special feature of Lloret that makes it a tourist attraction in the summer months is the water park Water World Lloret. There, young and old can have a great time on slides and water ride to beat the heat.
We have already talked in another post about the water parks on the Costa Brava, so if you want more information, don't hesitate to take a look!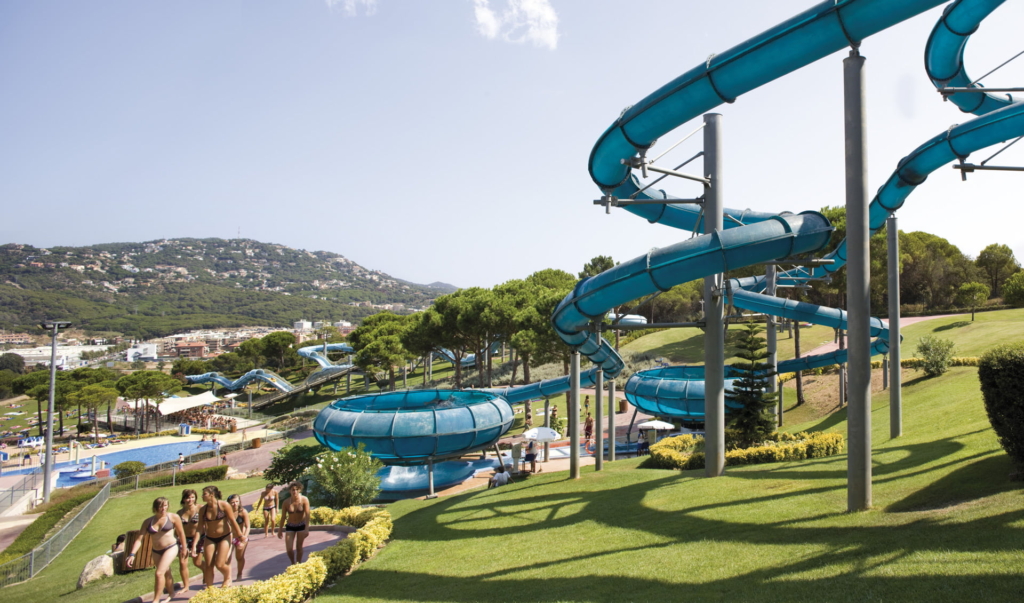 Shopping in Lloret de Mar centre
If you want to do a spot of shopping, whether for clothes or other items, the centre of Lloret offers you all kinds of shops, from the best-known international brands to small businesses that will offer you top-quality products.
What's more, the narrow streets of the central core have many bars and restaurants so you can sit and rest from your stroll while you have a bite or a refreshing drink on a hot summer's day!
The restaurants of Lloret de Mar
There is a wide range of dining options in Lloret, where you can find restaurants serving everything from Mediterranean cuisine to good Italian, Chinese or Indian restaurants with prices for all budgets.
If quality local cuisine is what you seek, we recommend the restaurant Ca l'Enric or the restaurant Cal Sogre. What's more, on the outskirts of town is Sant Pere del Bosc, a restaurant located in idyllic surroundings that makes the food even more enjoyable.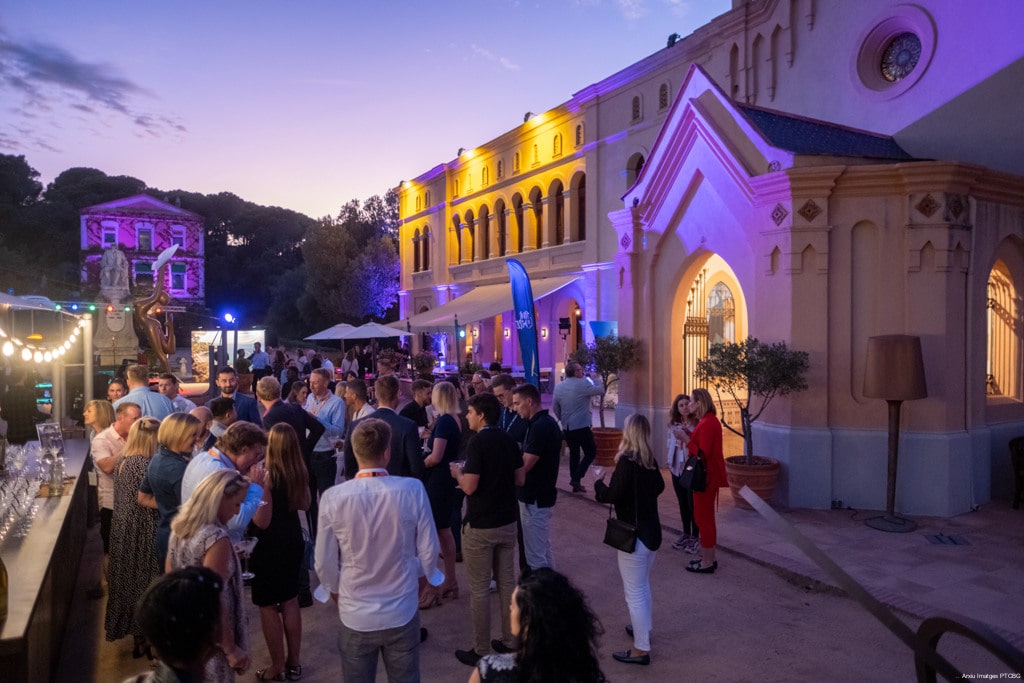 Beaches in Lloret de Mar
Now it's time to talk about the best beaches in Lloret de Mar and, as you can see, there are quite a few of them!
As well as being many, there is a variety, so you can choose the one that best suits your tastes and interests, and all without having to go far from the town centre. Do you prefer small paradisical coves? Lloret has them. Looking for fully serviced beaches? Well, look no further, because Lloret is the ideal place.
All the large beaches in Lloret de Mar unfurl the blue flag that qualifies them as quality beaches with clean waters and litter-free environments, making your experience an unbeatable one!
Knowing all this, it's time to find out about the beaches and coves in Lloret de Mar and what each of them has to offer. Let's go!
Lloret Beach
The first beach we would like to talk about is in the town of Lloret de Mar itself, located just a few streets from the centre of the town and very easy to get to. It is a large beach, typical of the coastal towns of the Costa Brava.
This means it is equipped with all the services: bars, restaurants, water sports and leisure activities and sun loungers for relaxing and sunbathing. It is also traced by Lloret's seafront promenade, ideal for long walks along the 1.6 km of beach.
As the beach with the most services, it is also the most crowded but don't worry, if you are looking for peace and quiet, you can find more beaches just a few minutes' walk away, as we will show you.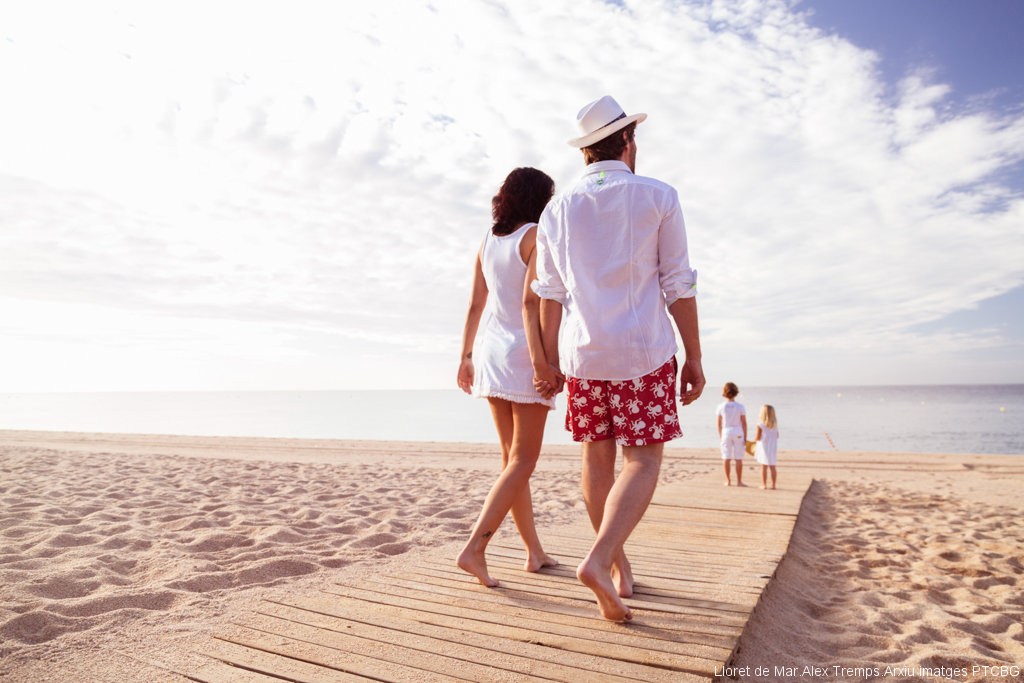 Sa Caleta
The large beach of Lloret is bookmarked with terrain that rising to protect the small, beautiful coves below from the wind.
To the north, is Sa Caleta cove which, despite being adjacent to the main beach, seems to be a totally different environment, with its turquoise waters and abundant nature. It's the ideal place to snorkel or dive and admire all the wildlife!
In addition, on the hill just behind it, you can visit the Castell d'en Platja an iconic image of the town; or the Iberian settlement of Turó Rodó where you can discover many things about this millenary culture.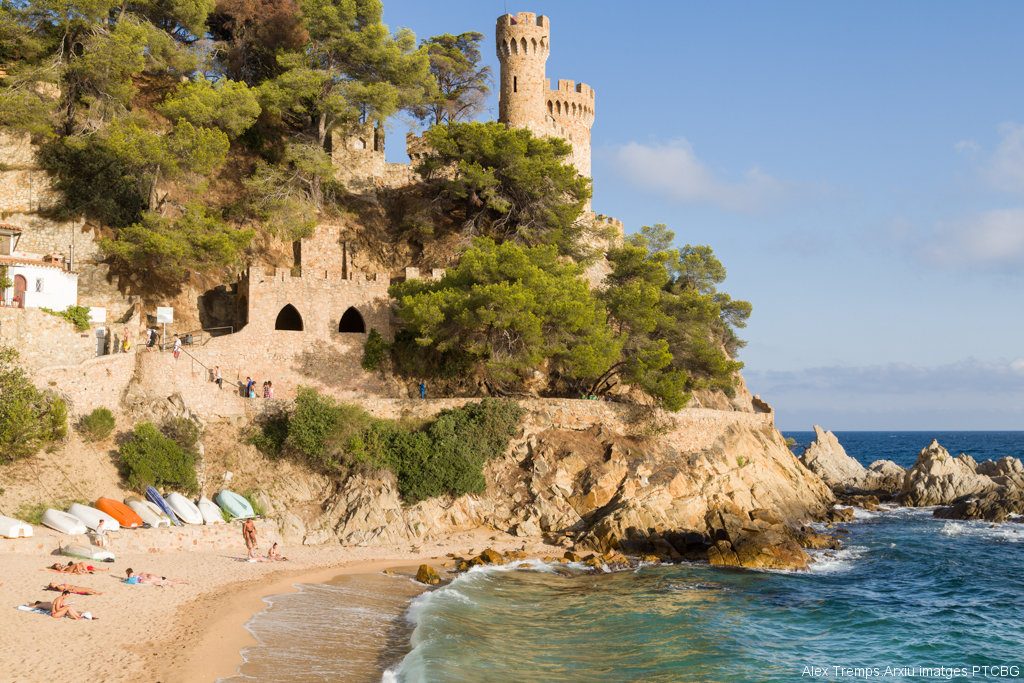 Cala de Trons
Continuing inland along wooded paths to the north, you will find the marvellous cove of Cala de Trons, hidden amongst the rocks and much smaller than the two previous ones, making it a legendary landscape.
This is a place embedded into the natural surroundings that allows you to see the most natural side of the Costa Brava, where the Mediterranean forest rock cliffs and crystal clear waters.
So, don't forget to take your snorkel and goggles because the spectacle of life hidden underwater in this cove will surely amaze you!
Cala Canyelles
As for the northern sector, the only cove in Lloret that remains to be mentioned is the unmistakable Canyelles cove in Lloret.
Despite being about 3 km from the centre of town, Cala Canyelles is a large cove that is well worth a visit. Apart from having all the services you can imagine, it is a much less crowded beach than the rest and you will be able to enjoy a quiet time in an idyllic setting.
In addition, in Canyelles, you can do all kinds of water sports and other leisure activities that are great fun for young and old alike. And if you're hungry, don't worry, there are places to eat too!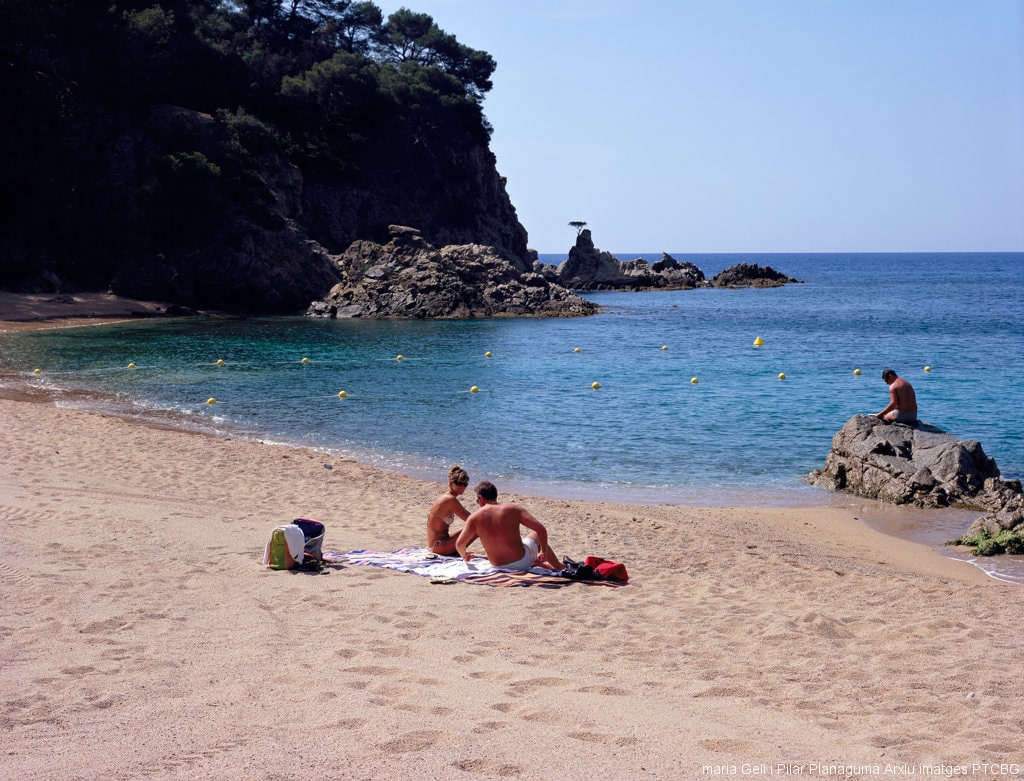 Cala Banys
Heading towards the southern end of Lloret beach, at the foot of the monument the Seafaring Woman and halfway to Sant Joan Castle, we find Cala Banys de Lloret.
Its natural essence, far from the typical hustle and bustle of summer days in Lloret centre, makes it the ideal place to relax and enjoy the beach and water activities. Many consider it to be the most romantic place in Lloret!
And although it's a bit far from the restaurants on the promenade, there's no problem because if you want to have a drink, there's also a bar-restaurant where you can have a drink and an aperitif.
Playa de Fenals
Fenals beach in Lloret is just past Sant Joan castle and is the second largest beach in Lloret de Mar. It is located only 15 minutes from the city centre and is easily accessible!
All this, together with the fact that it is less crowded than Lloret beach, makes it the ideal spot for families who want to enjoy the beach calmly and without problems. It also has the same services as the main beach.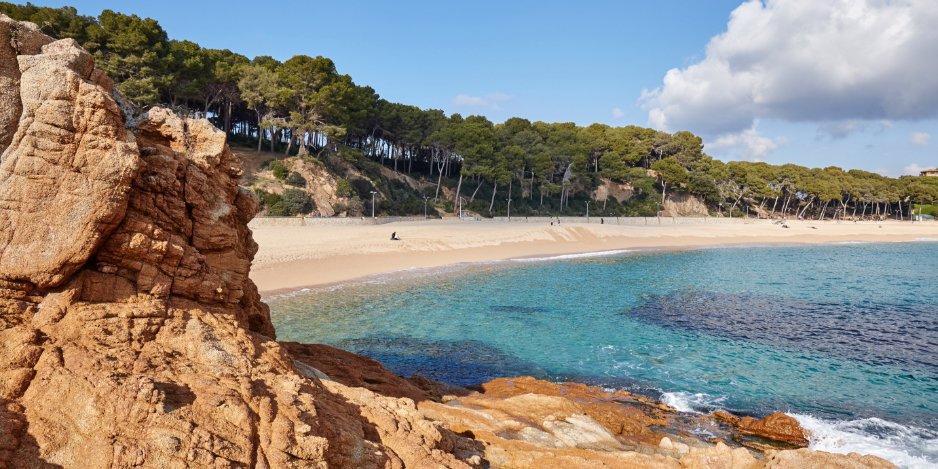 Cala Boadella
A little further south is the beautiful Cala Boadella or, traditionally known as Cala Sa Boadella in Lloret de Mar. Although it is a bit of a walk to get to the beach, the surroundings are worth it, and it also means fewer tourists come to the area.
So, if you want to have a quiet swim or walk along the sand with your feet in the water, Cala Boadella is your ideal beach. It is also close to the gardens of Santa Clotilde so you can relax even better than in a spa!
It is the only nudist beach in Lloret de Mar, although only in a section of it, as the rest of the beach is not classified as such.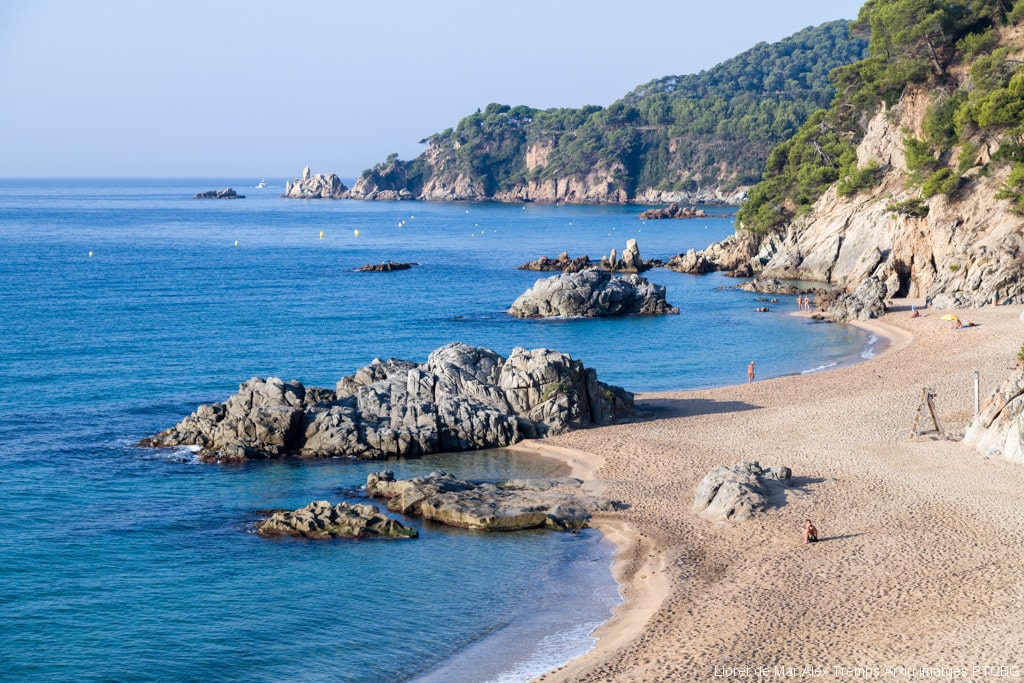 Playa Santa Cristina
Santa Cristina beach is perhaps one of the least known beaches in Lloret de Mar because it is neither the largest nor the most beautiful, but this gives it some advantages over the others!
As it is more unknown, the influx of tourists in high season is usually lower and the shallow waters, combined with the fact that it is protected from the wind, make it the ideal beach for the little ones, so they will be able to enjoy a danger-free swim.
You can also find a beach bar and other services such as sun loungers to relax in the sun or under the shade of an umbrella. And all this just 3 km from the centre of Lloret!
Cala Treumal
Finally, we reach the southernmost beach in Lloret: the well-known Cala Treumal. It must be said that this beach is actually part of the municipality of Blanes, but as it is connected to Santa Cristina beach, we couldn't help mentioning it!
A curiosity about this beautiful cove is that it is located next to the Pinya Rosa tropical botanical garden, where you can see more than 7000 species of plants, most of them cacti. If you like botany, this is a must-see.
As far as the beach is concerned, it is totally integrated in nature, with clear water and an incredible wealth of fauna, making it the ideal place for water sports such as swimming and snorkelling.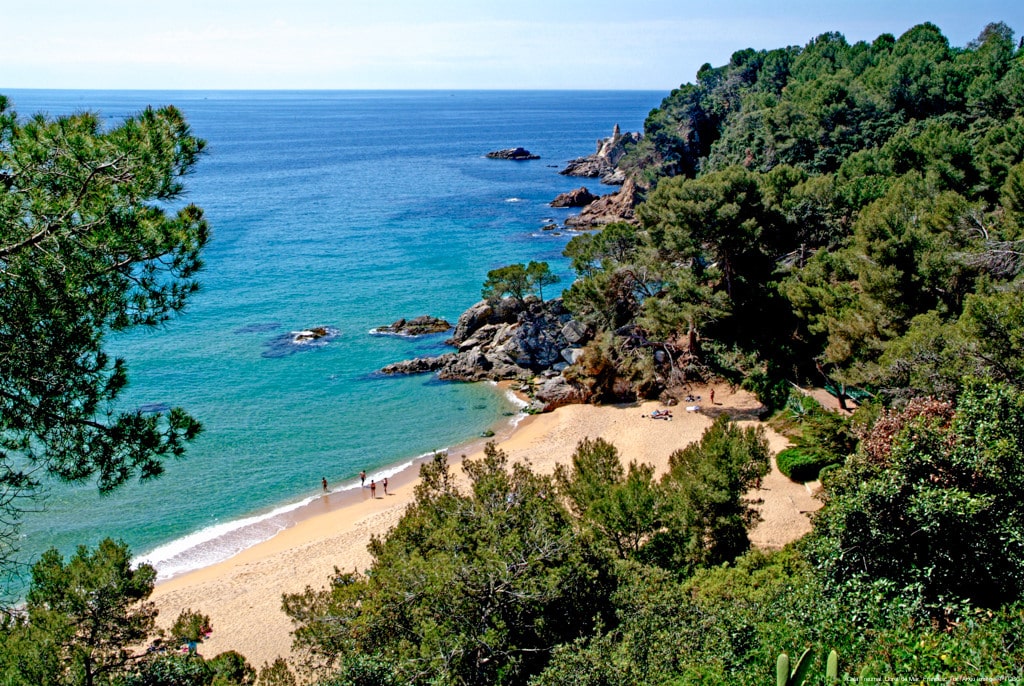 Campsites in Lloret de Mar
As in most places of interest on the Costa Brava, in Lloret de Mar there are also campsites where you can stay and relax with all the services you need to make your stay as pleasant as possible.
This makes campsites possibly the best option for enjoying the essence of the Costa Brava, as they offer all the comforts you can hope for in an accommodation without having to give up being in contact with nature.
Now we will tell you about the best campsites in Lloret de Mar so that you can choose the one that suits you best and experience this wonderful town how it should be!
Camping Sènia Cala Canyelles
Between the towns of Lloret de Mar and Tossa de Mar, as we have already mentioned, is the famous Cala Canyelles and, of course, you have a campsite right there: the Senia Canyelles Cove!
In this campsite there are plots of different sizes and all types of accommodation, always with sea views and surrounded by a wooded environment that makes it unique on the Costa Brava.
It has all the services you can imagine, such as swimming pool, restaurant and laundry; as well as being 5 minutes from the beach!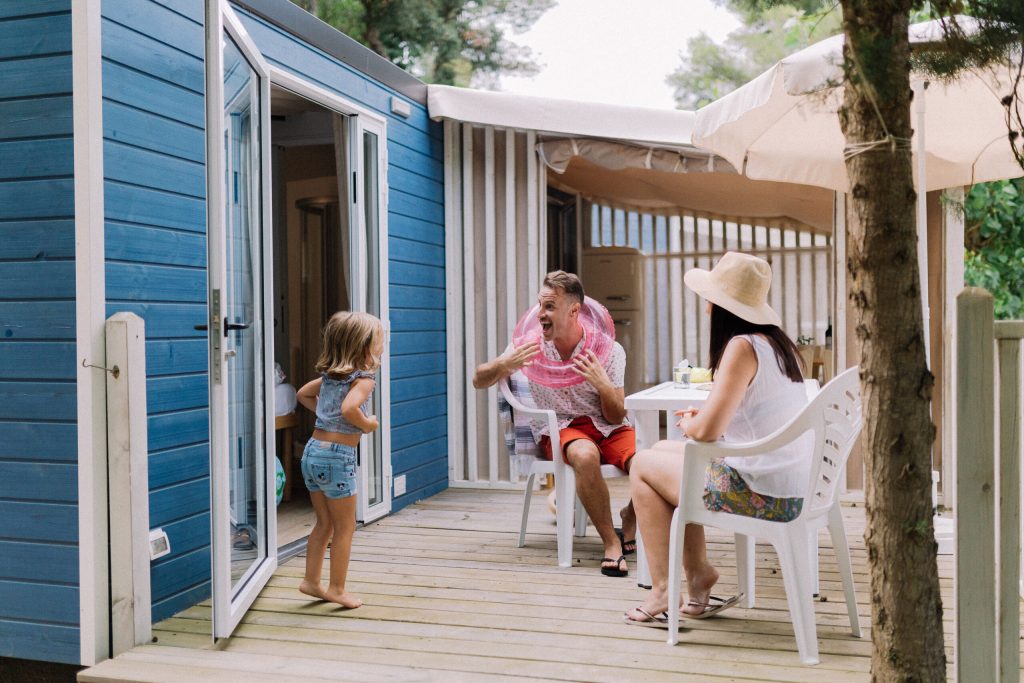 Camping Lloret Blau
Camping Lloret Blau campsite is just a few minutes from the centre of Lloret de Mar, making it the ideal place to enjoy the culture and history of the town as well as being equally close to all the beaches of Lloret.
It also has all the necessary services, plus facilities for bringing your pet or your bike. What's more, they are open almost all year round!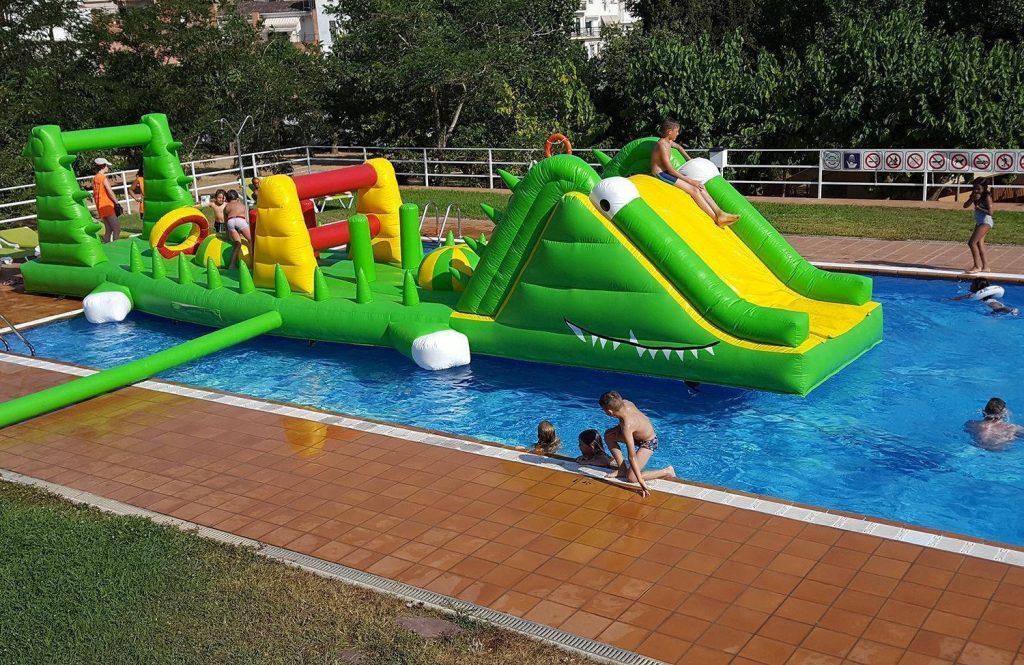 Camping Senia Tucan
Near the Fenals beach is the magnificent Senia Tucan, a quality family campsite that lets you enjoy the beach and Lloret truly close to nature.
In addition to the bicycle service you can organise all the excursions you want; this campsite also has mini-golf and a social lounge where you can meet people and share the experience of Lloret de Mar.
It has all types of plots and accommodation always seeking out direct contact with the green of the woods and equipped with everything you need to spend a few days of peace and quiet in Lloret.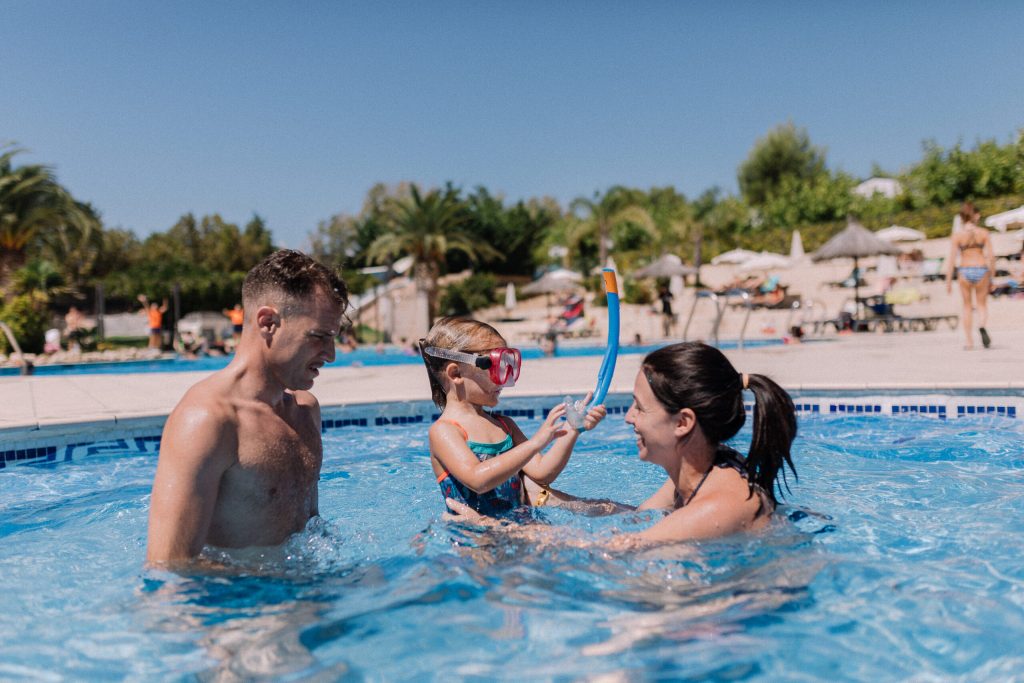 The weather in Lloret de Mar 
It is important to know the weather forecast when visiting Lloret de Mar, especially its beaches. Apart from the waves, which can be dangerous on a bad day, as on any beach, to get to some of the beaches you may have to walk for a while.
However, the climate in Lloret de Mar is very Mediterranean, so that spring and summer in Lloret de Mar means the temperature will be pleasant and rainfall low. That said, it is highly recommended to visit Lloret in winter, due to its great cultural heritage, which often does not shine as brightly in summer when there are so many tourists.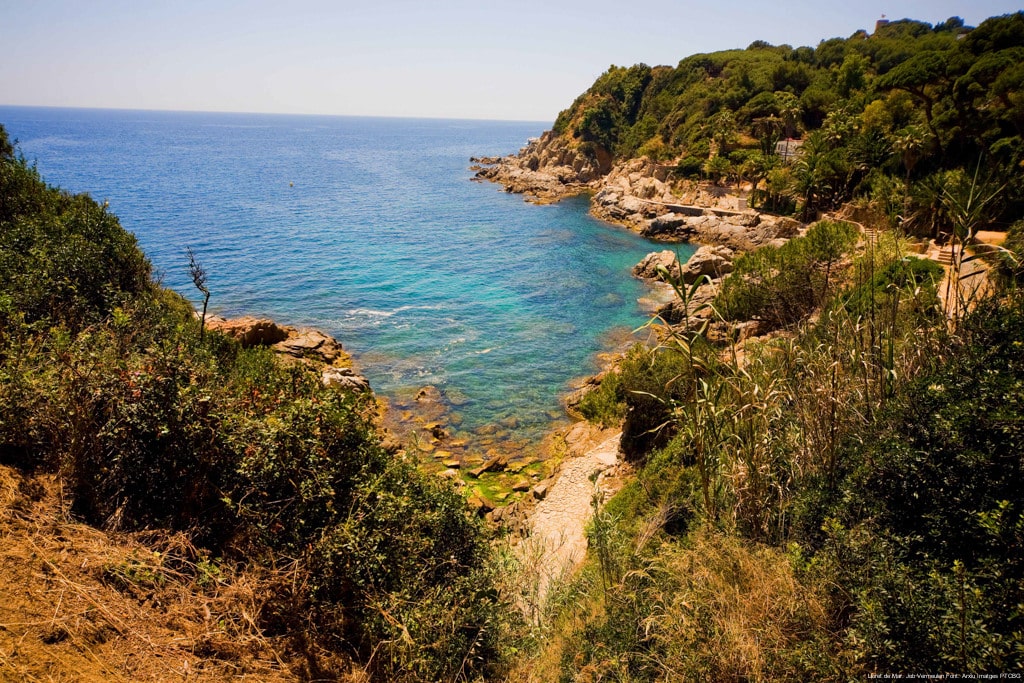 With all this, you now know everything there is to know about Lloret de Mar, the beaches and coves of Lloret and the essential activities to enjoy the town without missing out on anything. That's all for our part, but you can continue reading about other points of interest!