Begur
Would you like to know all about Begur? Find out what you can do and visit in this picturesque town on the Costa Brava. Let's begin!
Begur, the essence of the Costa Brava
Begur is definitely one of the most charming towns in the Baix Empordà region, not only for its picturesque old town but also its unique natural surroundings. The Begur area boasts some of the most beautiful coves on the Costa Brava, breathtaking cliffs and small fishing villages such as Esclanyà, Aiguafreda, Sa Riera, Sa Tuna, Aiguablava and Fornells, attracting people from all over the world.
A visit to this part of the Costa Brava is a must, which is why Càmpings de Girona would like to make things easier for you. Keep reading to discover the must sees of Begur, including its coves, beaches, coastal paths, culture, restaurants and much more!
What to see in Begur
Begur is sure to amaze you. Everyone who visits the town falls in love with it and returns within a short time. It's a place that has to be savoured with all five senses and without rushing, admiring the Indian character that seeps into each of its alleys and buildings.
We'll start by telling you about all the sights that you can see in the town:
Historical centre of Begur
Begur is a town characterised by its history. This is evident as soon as you look up at the mediaeval castle standing on top of the hill.
If you stroll through the old town, you'll find other things that will take you back to times gone by, such as the fishermen's houses and the different Indian buildings bequeathed by some of its ancestors.
Apart from the prominent castle, the Indian buildings and the fishermen's houses, you'll find other historical elements, such as the various defensive towers in the town dating back to the 19th century, which were used to watch out for pirate raids in the area.
Finally, you'll see a Gothic-style church and other iconic buildings, including the Cultural Casino and the Old Schools.
The Indians played a vital role in the development of the town of Begur. During the 19th century, many people from Begur and other inhabitants of the Empordà emigrated to the Americas, fleeing the economic crisis affecting Spain at the time. On their return to their home towns, many of them brought large fortunes, a positive factor for local development, as reflected in the private and public buildings in the town.
Today, these houses have remained in the hands of their descendants or they have been sold to people from the town or abroad. Of course, these stately homes have left their mark and the Indian essence of Begur can be felt on every corner.
Tremenat Castle, commonly known as Begur Castle, was strategically built in the 11th century on a hill with views of the town and the coastline. This castle has witnessed numerous battles throughout its history, leading to its destruction on several occasions. Nowadays, the castle's foundations are conserved, and part of its structure remains, leaving the signs of an exciting past visible. 
Begur Castle is a symbol of the town and from the top you can enjoy the views from a vantage point overlooking it and the entire Costa Brava. Entry is free of charge and it can be reached on foot or by car.
If you move away from the old town, there are also magnificent places around Begur, each of them with their own special charm. We'll reveal them to you!
We'll begin by mentioning Esclanyà, a small town near Begur that will invite you to take a walk through its streets. One of its attractions is the Romanesque church of Sant Esteve d'Esclanyà, which dates back to the middle of the 10th century.
Despite being quite a small town, you can also find the remains of Esclanyà Castle, currently known as Esclanyà Tower. This is a 14th-century Romanesque building that imbues the whole town with a particular charm.
Aiguafreda, Sa Riera, Sa Tuna, Aiguablava and Fornells are other locations around Begur that are worth visiting, especially the coves and beaches that we list below.
Coves and beaches in Begur
Cala d'Aiguafreda
Like most coves in Begur, its waters are transparent and turquoise. It isn't an ideal beach for laying down your towel, but it's a great destination for snorkelling and scuba diving fans.
The cove has a cement pier to make it easier to get to the sea for the boats and the divers, who often choose Cala d'Aiguafreda as the starting point for their trips out to sea.
During the summer months the beach provides showers, toilets, bars and a car park reserved for people with reduced mobility. You'll see houses on a small estate nearby.
Cala Sa Riera
Here you'll find one of the largest coves in Begur, one that's ideal for a day on the beach with the kids. You can also enjoy all kinds of services, such as showers, adapted toilets, a lifeguard, bars, a diving centre and a car park reserved for people with reduced mobility.
Sa Riera is a perfect cove! Close by, you can get to two smaller ones: Port des Pi and Cala del Rei.
Cala Sa Tuna
Here you'll find one of the best-known coves in the town, together with Cala Aiguablava. It's medium-sized with a small group of fishermen's huts behind it, making this place one of the most popular for picture postcards of the Costa Brava.
The cove can be reached on foot along a pleasant stretch of the coastal path.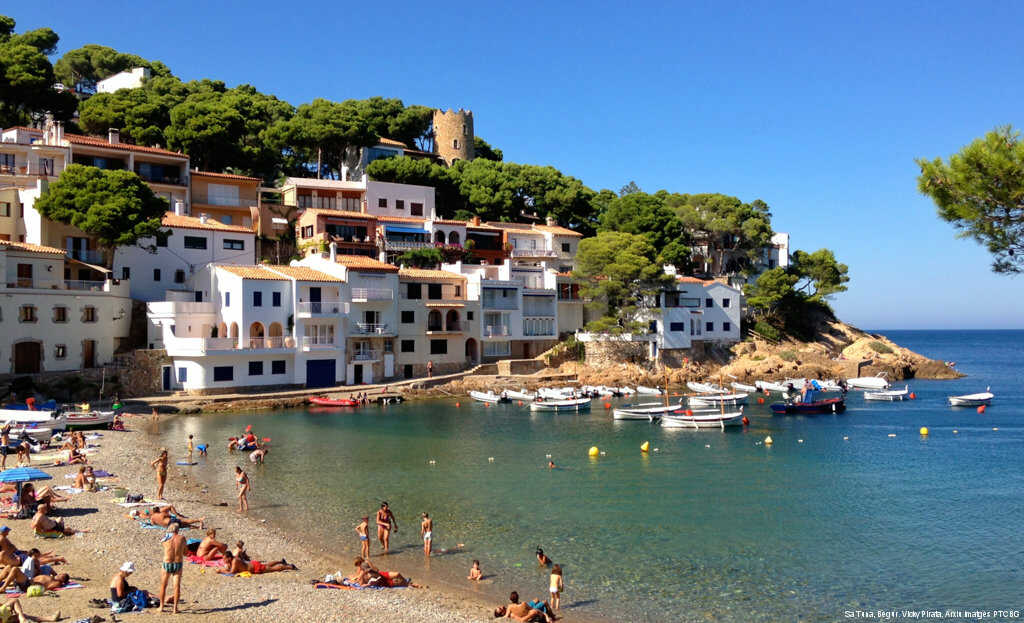 Cala Aiguablava
This is probably the most popular cove on the Costa Brava. The reason for its fame is its characteristic turquoise water and the natural setting of Mediterranean pines and cliffs, which make Cala Aiguablava a unique place in the world.
The beach has showers, adapted toilets, bathroom services run by the Red Cross, a lifeguard, access for people with reduced mobility, bars, a diving centre and a small car park with spaces reserved for people with reduced mobility.
It's quite a small cove, so we advise you to go there early so that you can park easily and find some room on the sand to spread out your towel.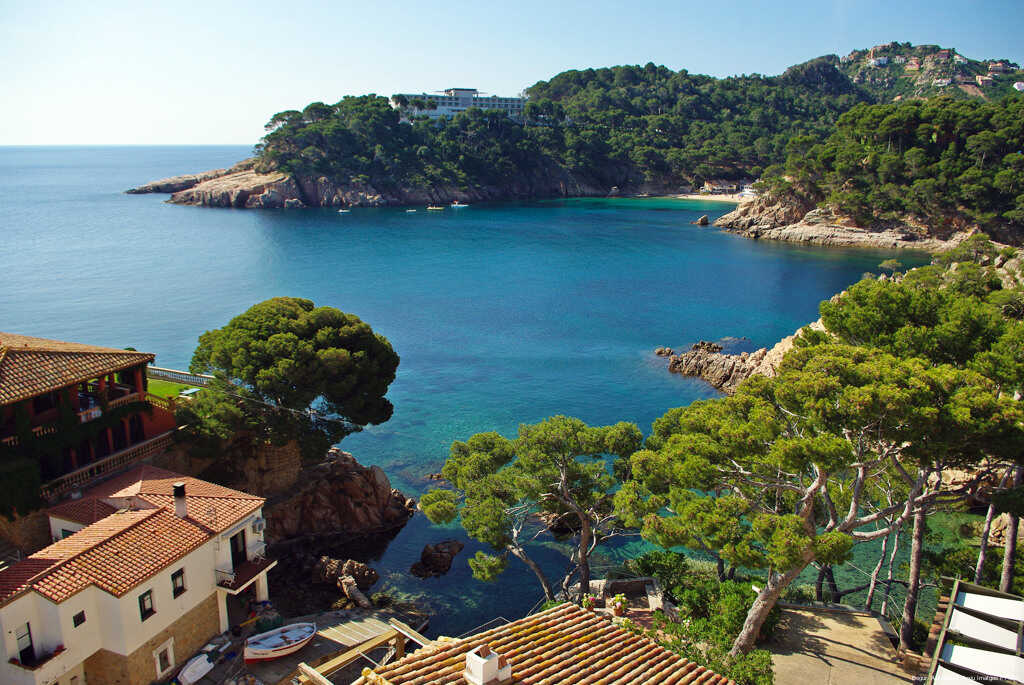 Coves in Fornells
To the south of Begur you'll come to the area of Fornells, a small town with summer houses and beautiful coves nearby that are well worth a visit. They can be reached along the coastal road that connects them.
Here you can stretch out your towel and soak up the sun in the peace and quiet. You can choose between the following coves if you want to spend the day there: Cala n'Estàsia, Cala de Ses Orats and Cala d'en Malaret. On the other hand, if you're looking for a beach of a wilder nature, you can go to Port d'Esclanyà, a pebbly beach with clear waters.
In this area of coves, we should also highlight the Begur Natural Pool, which, although it looks natural, is actually artificial. It lies very close to the coves in Fornells and can be reached along the coastal path from Aiguablava or Platja Fonda.
We should mention that the coves in this area don't have any amenities, just a few nearby restaurants.
Platja del Racó
Platja del Racó is the beach closest to the municipality of Pals and it joins up with Platja Gran de Pals. It's very quiet and ideal for people who want to spend a relaxing day on the beach.
It has shower services, adapted toilets, a lifeguard, access with a ramp for people with reduced mobility, a bar and a car park in the area.
Cala Illa Roja
The name of this amazing cove with transparent and turquoise water comes from the large red islet that lies close to the sand. It's a very quiet nudist beach without any crowds, allowing you to enjoy a relaxing swim and rest on the sand without any worries.
This cove doesn't provide many services, but close to it you can usually find a bar.
Platja Fonda
We'll finish by mentioning the picturesque Platja Fonda, an unspoilt cove with thick coarse-grained sand which, as it's quite difficult to reach, retains a highly attractive natural and scenic charm.
Platja Fonda doesn't have many services, but it's ideal for snorkelling or stretching out your towel on the sand, reading a good book, sunbathing and enjoying the clear waters in stark contrast to the darkness of the sand.
Begur's coastal paths
The peculiarities of the Begur coastline include the stretches of coastal paths that run along it without moving away. This is one of the best ways of getting to know the region, enjoying a gentle stroll and observing all the tiny details of a charming landscape that will leave you speechless.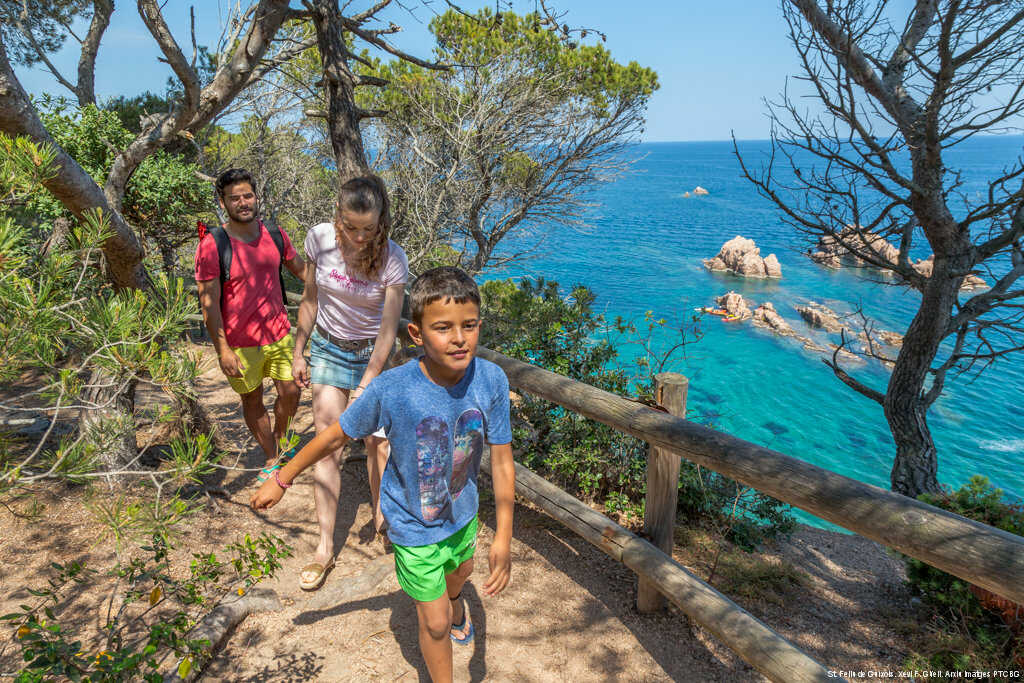 The Begur Tourist Office has divided the coastal path into three sections by the:
– Northern Coastal Path: One hour long, this path goes from Sa Riera to Platja del Racó. It's a simple route that boasts magnificent views of the sea, Illa Roja Beach and Pals Beach with a constant view of the Medes Islands in the distance. 
Although it isn't necessary to be in great shape to cover this section, it's important to bear in mind that you'll come to some steps up a steep slope, so if you aren't physically ready, this may be one of the most difficult parts of the route.
– Eastern Coastal Path: This stretch links Sa Tuna and Aiguafreda in a walk lasting about 45 minutes along a path with lots of steps, climbs and descents that will allow you to admire the coast from different perspectives. In addition, these two sections and some of the most famous coves in Begur have, as we've already told you, a bewitching natural landscape.
– Southern Coastal Path: The longest stretch of the Begur coastline, involving a 2-hour walk, will enable you to visit the beautiful Aiguablava, Fornells and Platja Fonda beaches. It's an excellent path in terms of the landscape, allowing you to enjoy the beauty of the place in its fullest splendour.
Cultural events in Begur
Begur is a town that's active all the year round, with a wide range of cultural activities for all its visitors. As you can imagine, the Indian and marine nature form part of many of the cultural events that we list below. Come with us to find out more!
Fira dels Indians (Indian Fair)
Begur's Indian Fair is one of the best-known annual celebrations on the Costa Brava. Each year it celebrates the close relationship between Cuba and Begur, which began with the immigration of numerous people from Begur in the 19th century and left a great cultural legacy when they returned and sought to recreate part of the lifestyle that led them to the Americas, with ostentatious houses and businesses that can still be seen on the streets of Begur today.
Every first weekend in September Begur adorns itself to relive the period that has marked the DNA of the people of Begur. Throughout the fair you'll be able to enjoy musical performances by Caribbean groups, displays of some past trades, an overseas market and many other activities to popularise the town's Indian past.
Begur en Flor (Begur in Blossom)
This event is definitely much less well-known than others that take place in the town, but it's one of the most colourful.
Every spring Begur is bedecked with flowers of all colours for a festival that has its origins in the ancient religious celebration of the Corpus Christi, although it is now held for more recreational purposes. Flower carpets, floral arrangements in the streets and squares, flowers in the houses and shops and on balconies and musical performances; the arrival of spring is celebrated with this lively and colourful festival.
Music festivals in Begur
Every August the Begur Music Festival is held in the town. This is a cultural event that groups together major musicians from the local scene to bring some of the most iconic buildings in Begur to life, including the Old Schools, the Mas d'en Pic, the historical centre of Esclanyà, the Plaça de la Vila and Sa Tuna.
You can buy tickets here.
Where to eat in Begur
The gastronomy of the Costa Brava gives you the opportunity to enjoy excellent "surf and turf" dishes that combine products from the sea and mountains, thanks to the proximity of these two very different landscapes that merge their tastes to perfection.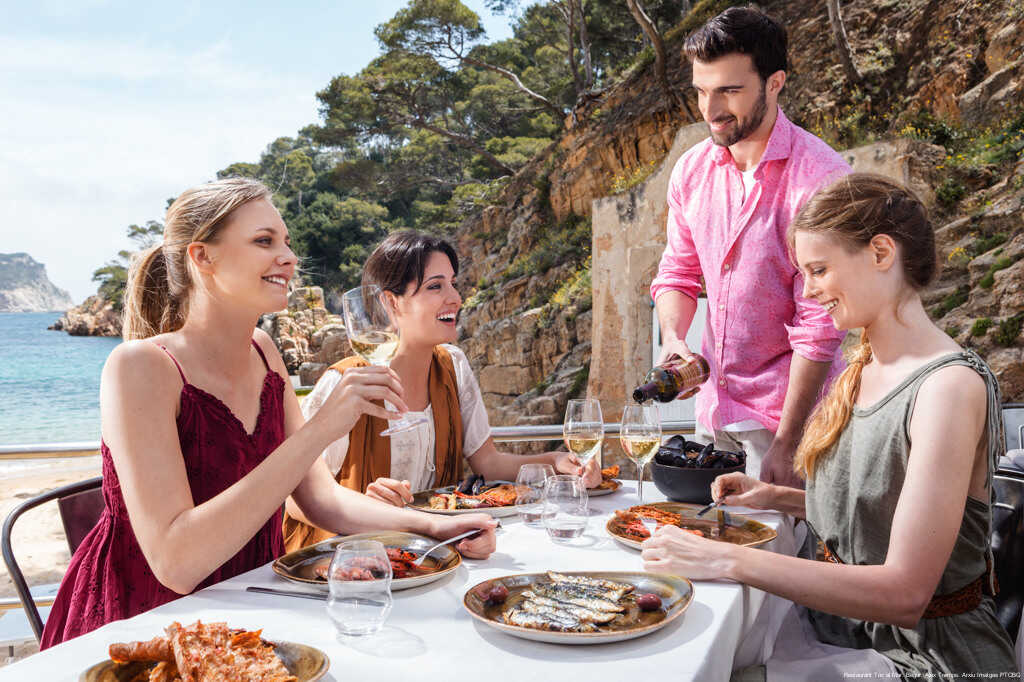 In Begur you'll find several restaurants where you can savour the typical dishes of the region and enjoy the surrounding area.
To make your search easier, we list Tripadvisor's Top Ten restaurants in the Begur area:
Can Pere
Platillos
La Escalopa
Diferent Restaurant
Taverna Son Molas
Restaurant Turandot
L'Autèntic
Hostal Restaurant Sa Rascassa
Recer de la Mar
Restaurante Galena Mas Comangau
Restaurant Cap Sa Sal Begur
Begur Campsite
Begur Campsite is one of the best choices of accommodation in the town, particularly due to its varied options, its location in a unique natural environment and its proximity to well-known coves such as Aiguablava and Platja Fonda.
Camping is always a good option, especially if you're travelling with your family, as fun and switching off are guaranteed.a, ja que la diversió i la desconnexió estan assegurades. 
You'll find more information on this campsite on its data sheet and website.
The weather in Begur
Are you thinking of visiting Begur? Take a look at the weather forecast for Begur to make sure you can enjoy its coves and beaches, the coastal paths and your visit to the historical centre to the full.
We encourage you to view the weather in Begur on the following website.Així doncs, us animem a consultar el temps de Begur al següent web. 
Now you know a little more about all that the wonderful town of Begur has to offer; it's sure to amaze you!
We hope you like it!