Cycling during your camping vacation in the Costa Brava and Girona's Pyrenees is a choice that promises an extraordinary and enriching experience.
The province of Girona stands out as the perfect destination for cycling enthusiasts, offering a harmonious blend of features that make it a two-wheeled paradise. Located in the northeastern part of Spain, the Costa Brava is a true paradise for cyclists. With its stunning coastal landscapes, charming medieval towns, and challenging mountain terrains, this region offers a diverse range of cycling routes for riders of all levels. Whether you are a beginner looking for an easy ride along the coast or an advanced cyclist seeking adrenaline-pumping uphill challenges, the Costa Brava and Girona's Pyrenees have it all.
If you are thinking about spending your next camping vacation in the area but haven't decided where to stay, check out the campsites with the Bed&Bike seal of approval, which means exclusive services are available for cyclists seeking accommodation to meet all their needs, such as: lockers for bike storage, tools for reviewing bike parts, changing wheels, drying areas for clothes, guided tours, bike rental and trails in the area. Furthermore, if you're cycling around the area, Girona's campsites with the Bed&Bike Friendly seal can be booked for just a single night!
Do you still need reasons to spend your camping vacation in the province of Girona and explore this beautiful region on two wheels? Here are some:
1. Diverse Terrain: Whether you're a novice or an experienced cyclist, the Costa Brava and Girona's Pyrenees have terrain to suit all preferences. From gentle coastal paths to challenging mountain climbs in the Pyrenees, this region caters to every skill level.
2. Spectacular Scenery: The Costa Brava boasts some of Spain's most breathtaking landscapes. As you pedal along its winding roads and trails, you'll be treated to awe-inspiring views of the Mediterranean Sea, stunning natural areas, charming fishermen towns and impressive medieval villages.
3. Well-Maintained Routes: The region is renowned for its well-maintained cycling routes and extensive network of bike lanes. Cyclists can enjoy safe and scenic journeys, often separated from motorized traffic, ensuring a stress-free, safe and enjoyable ride.
4. Mild Climate: With a Mediterranean climate, the Costa Brava offers pleasant cycling conditions year-round. Mild winters and warm summers make it possible to plan your cycling vacation whenever suits you best.
5. Cycling Culture: The Costa Brava has embraced cycling as part of its culture. No wonder why it has become the home of many international professional cycling teams! You'll find bike-friendly accommodations, bike rental shops, and an overall enthusiasm for cyclists throughout the region.
6. Gastronomic Delights: Cycling here is not just about the ride; it's also about savoring the local cuisine. There's nothing like a post-ride meal at a charming Catalan restaurant, sampling fresh seafood, local wines, and regional specialties.
7. Rich History: Exploring the Costa Brava and Girona's Pyrenees on a bike allows you to delve into their rich history and cultural heritage. Ancient ruins and medieval towns are easily accessible, providing a cultural dimension to your cycling adventure.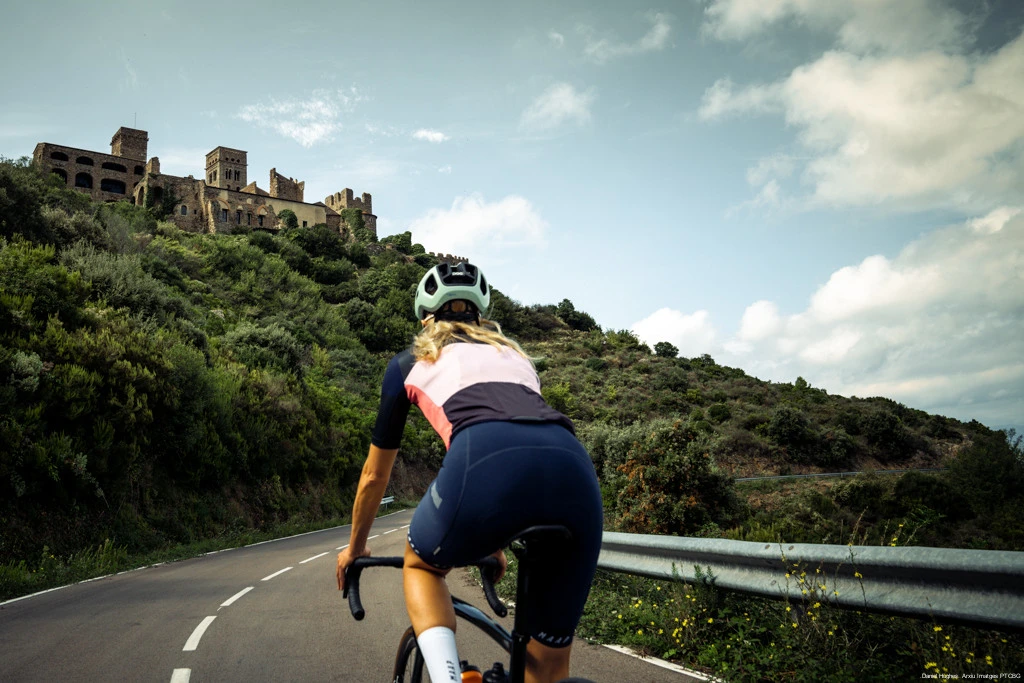 Exploring the Best Cycling Routes in the Costa Brava and Girona's Pyrenees
With a diverse terrain, in the province of Girona you will find a wide variety of options to suit your cycling preferences and skill level. From flat roads to challenging mountain climbs, there is something for everyone. Let's explore some of the best routes that will take you on a memorable cycling adventure.
Family friendly biking routes along the Green Ways
If you are looking for routes to enjoy a cycling experience with the whole family, or you are new to cycling and prefer a relaxed ride, Costa Brava offers several easy routes that will delight you with their scenic beauty.
The Green Ways include a wide variety of routes along the destination through trails that trace former railway lines. These routes are the perfect way to connect with the natural landscapes without having to worry about traffic. They are the best choice for families, groups and solo cyclists who enjoy cycling in a relaxed and natural environment.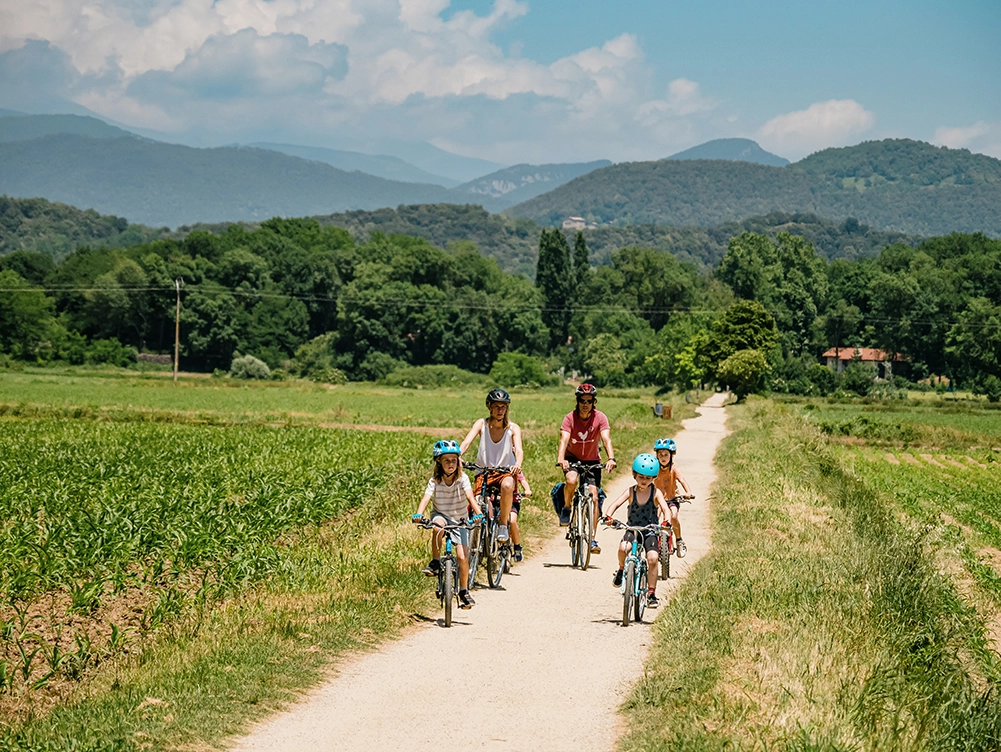 The best scenic routes for road cyclists
For those who prefer road cycling and with a bit more experience, the Costa Brava and Girona's Pyrenees will become paradise. Whether it's the challenge of conquering new terrain or the serenity of a scenic ride, road cycling enhances the vacation experience and leaves travelers with lasting memories.
From the coastline to the countryside, the Costa Brava invites road cyclists to discover its paradise with flexible routes, well-marked paths and excellent road conditions that make it easy to tailor your cycling adventures to your skill and fitness levels.
The destination offers many road cycling routes that will take you near the sea, up in the mountains, inland… or everywhere! The size of the area and the road network make it easy to adapt the route to everyone's preferences and you can cycle through a wide variety of landscapes in the same route.
The medieval towns of the Costa Brava are all worth exploring and most of them are accessible by beautiful small roads that are the perfect track for road cycling. Don't miss this cycling route through the medieval villages of the Baix Empordà, and get ready for a lot of stops along the way: you will want to take photos of every corner!
The Costa Brava and Girona's Pyrenees being a cycling paradise means there are uncountable routes to explore in the area. You will find options of all difficulties, in all types of landscapes and for different cycling modalities. If you want more ideas of cycling routes in the province of Girona, don't miss a post about the best bike routes and its second part with more suggestions!
The province of Girona truly is a cyclist's paradise, offering a wide range of cycling routes that cater to all levels of riders. Whether you are a beginner, an experienced cyclist, or an adrenaline-seeking pro, this region has something to offer you. From the stunning coastal paths to the challenging mountain climbs, the Costa Brava and Girona's Pyrenees will captivate you with its natural beauty and cultural richness. So, grab your bike, plan your trip, and get ready for an unforgettable cycling adventure in Pedal Paradise!
Ready to explore the best cycling routes in Costa Brava? Start planning your trip today and experience the thrill of Pedal Paradise!