Temps de Flors
8 de July de 2019
The town of Girona is known as one of the most romantic in Spain, and that's really true, you can just stroll through its old quarter (Barri Vell) or cross one of its beautiful bridges or have a look at the Onyar Cottages.
It is a city of thousands of colours and you can see incredible views walking in the center or through its ancient walls !
Every year, in May, during springtime, the Temps de Flors festival takes place here: for nine days the streets, the patios and the squares of Girona are full of flowers with original floral designing and art projects.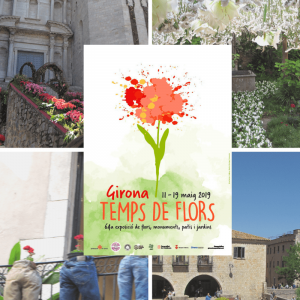 This festival of flowers and colors has been growing year after year, with different exhibitions and interesting cultural activities. For this reason, more and more people have decided to visit the city on these dates.
It is a unique event of its kind and attracts visitors of all ages who, apart from enjoying the city, can find a historical and artistic view of flowers and colours.
If you are a good music lover, you have to know that, in recent years, on the same dates as Temps de Flors, another great event is hold: the International Festival of Girona a Cappella.
This festival, unique in its musical genre is called "a cappella", that means to create music only through the human voice, is an excellent cultural proposal that will take you around the city where you can listen to concerts by artists known all over the world.