10 things you cannot forget if you go  Camping!
21 de juni de 2019
The holidays have arrived and this year you have decided: this year we will go to a campsite!
The nature waking you up with the birds singing, now you can go to the beach or make trails and eat when you want and what you want…  today the chef is you!
But … How to make this idyllic idea a reality?
What are the things you can forget in your camping trip?
1- Repellent: living in the nature is very cool and we all love nature… bur mosquitos love… YOU!  It's really nice until you are attacked by mosquitoes … So, think it before and take with you a good repellent (better if natural). In this way you can enjoy hours and hours in the middle of uncontaminated nature without problems!
2- The fridge: What? Have you thought about it? This is the typical thing that people forget to carry with them. The good news is that, even if you forget it, you don't have a fridge, you can rent it  in this page: Rent-it    They will bring you the fridge directly to the campsite you've chosen in Costa Brava. There is a catalog of different refrigerators and prices according to your needs! So, you can relax and drink your cold beer without problems.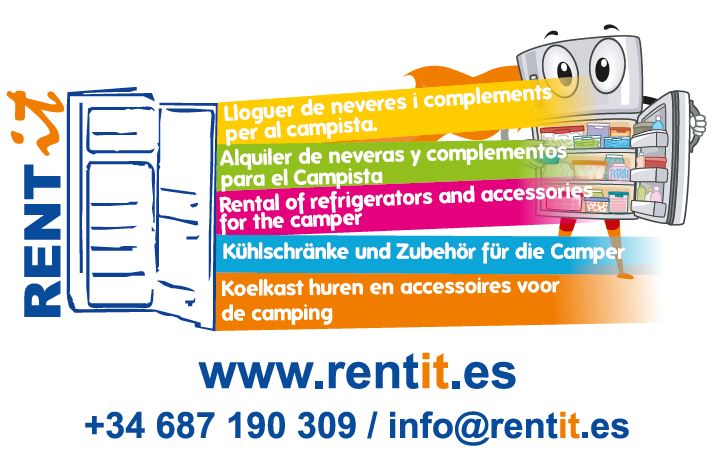 3- A first aid kit: it does not matter if you're going adventure, mountain campsite or sea, this is something you should always have: a basic kit with bandages, sterile gauze and disinfectant.
4- Camping table and chairs: there is nothing better than getting to your campsite, organize everything and have a dinner next to the van with your table and chairs. Or, even better, have you thought about some sunbeds to take a nap under the trees?
5- Microwave and mini-stove: it's not just barbecues and cold food. It is important to have something in your van so that you can warm food like that succulent pasta dish that you have bought at the camping shop. And if you do not have a microwave, you can rent it here: RENT IT ; they will take it to you directly to the campsite you have chosen for your Costa Brava vacation!
6- Sleeping bag and mat: it is very important to rest well, every day you have new adventures that wait for you!
7- Chargers and external battery: ok, it is important to be disconnected from social networks and spend a day-to-day life, but … not so much, isn't it?
8– A torch / frontal: it is always important to take them with you!
9- A sweatshirt at night. Although it is very hot, do not forget to take at least one heavier garment. At night the temperatures go down a LOT! Better to carry some sweaters than to be cold!
10- Salt, Sugar, Oil and vinegar: we never think of these basic things, but believe me, when you will be with your food ready and without salt … You will appreciate the advice!