Water parks on the Costa Brava
Holidays, sun, the heat, good weather, fun… Sounds good, doesn't it? When the good weather arrives, there's nothing we want more than to enjoy a good soak in the open air to escape the heat. We invite you to discover the best water parks on the Costa Brava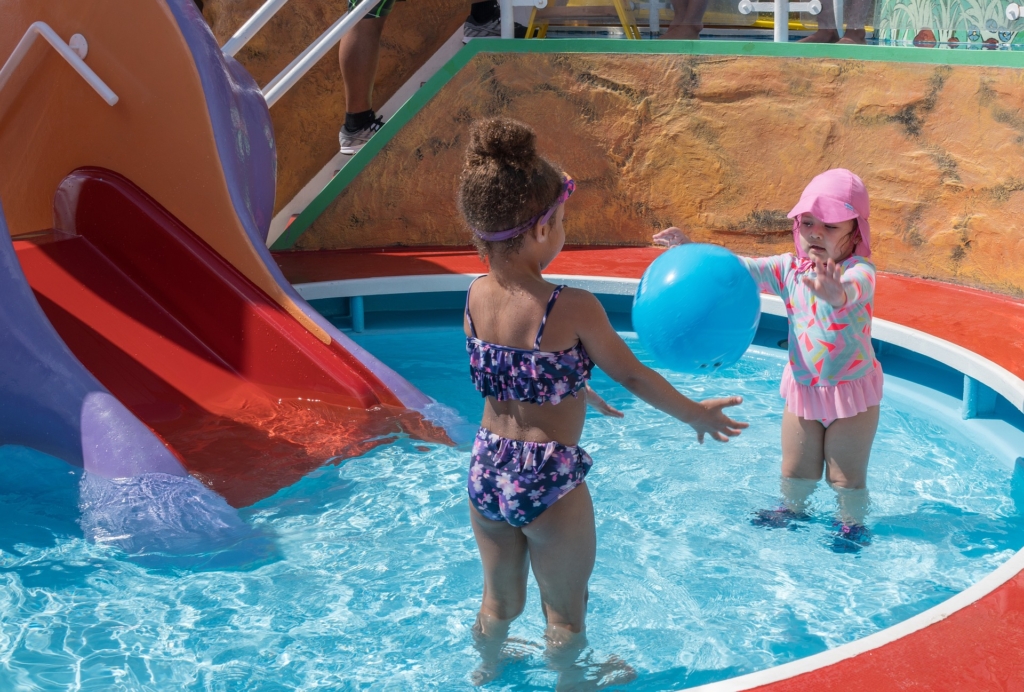 Have fun and beat the heat at Girona's water parks
At the Campsites of Girona Association, we can't think of a better option than a refreshing adventure in a water park on a hot summer day. Be it with family or friends these leisure centres are an essential option to beat the heat, while having a great day out with a splash and a good laugh.
There is the incredible adrenaline rush that comes from the many rides in the slides and pools, but that's not all, because in addition to all these extreme activities there is also something for those who want to relax and enjoy a day of peace and quiet in the bubble pools or kick back in a hammock in the shade of a tree.
So there is no doubt why water parks should be an option for the summer. Now you just need to know which are the best water parks on the Costa Brava and that is what we want to tell you about today.
Type of water parks in Girona
On the Costa Brava you will not only find wonderful beaches and an endless supply of outdoor activities of all kinds, but it is also one of the biggest water ride destinations in Spain, as its water parks appear year after year in the ranking of the best water parks in Europe.
In total, there are three traditional water parks on the Girona coastline: Aquadiver in Platja d'Aro, AquaBrava in Roses and Waterworld in Lloret de Mar, all three located in popular family destinations on the Costa Brava, so it's easy to include them in your trips when you spend a few days in the area.
It is also worth remembering that some of the beaches of the most renowned towns on the Costa Brava also have water attractions. There the little ones and the not-so-little have the chance to have a great time in a supervised environment and with all the necessary safety features.
Beyond all of these, however, on the Costa Brava you will also discover several campsites have their own water parks among their facilities that give a twist to the traditional idea of camping.
Hoy en día los campings se han convertido en auténticos templos de diversión y descanso al mismo tiempo, ya que ofrecen todas las comodidades que puedes encontrar en un hotel o apartamento, pero además con actividades para todas las edades e instalaciones tan únicas e impresionantes como los propios parques acuáticos; cosa que los convierte en el alojamiento ideal para familias.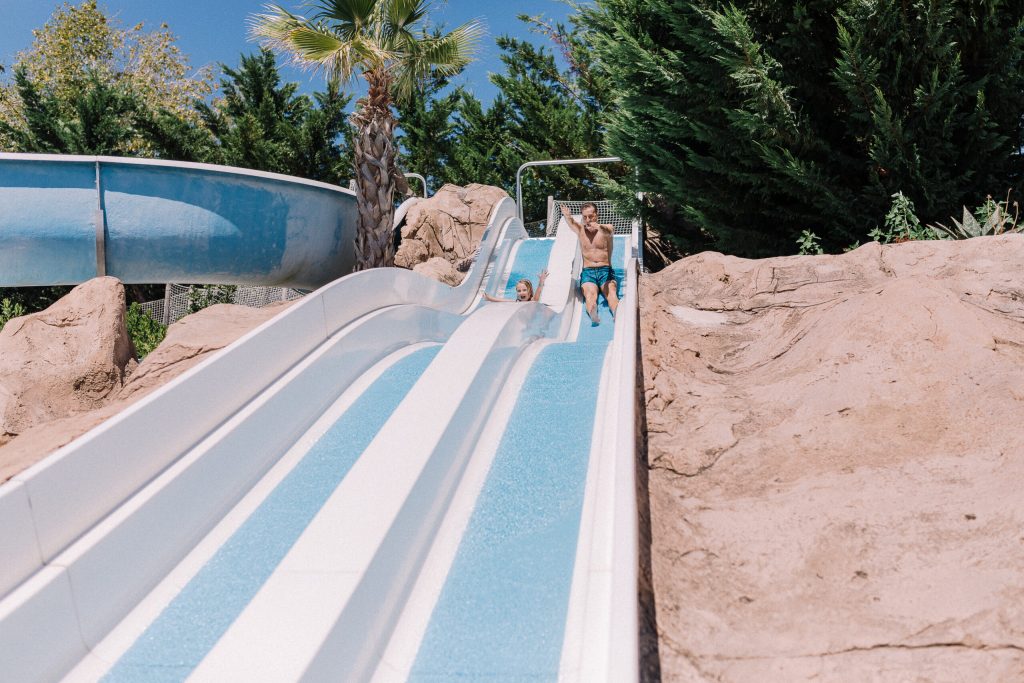 Large water parks on the Costa Brava
We mentioned them briefly a moment ago, but what do the best water parks on the Costa Brava have to offer? Let's not make you wait any longer and take a look!
AQUADIVER (Playa de Aro)
Aquadiver is a park specially designed for a day of family fun where young and old alike will have a great time. The Rock House, the Mini Tous, the Fun Temple and the Rio Kids are undoubtedly some of its iconic rides known far and wide.
Here, the little ones can experience their first 'intense' sensations in the complete safety that the parks and lifeguards provide to visitors.
But it's not just younger users who are guaranteed fun, as with a total of 26 rides and attractions, there's plenty to keep adults entertained and adrenaline junkies can enjoy the descent down the Kamikaze slides, with 60 metres of free fall, or the Aqua Rocket, a practically vertical slide that will make you scream at the top of your lungs!
If you want more information about all the attractions and services offered by Aquadiver as well as their prices and opening hours, don't hesitate to visit their website.
WATER WORLD (Lloret de Mar)
Slides such as the Speed Slides and the Hurricanes, an exceptional 50-metre wave pool and Europe's highest water roller coaster in Europe, the Water Mountain, is one of the ingredients that make up one of Europe's leading exponents of water fun, the famous Water World, in the town of Lloret de Mar.
With a total of 20 attractions including water slides, water roller coasters, infinity waterfalls, wave pools and kiddie pools, this water park is popular for its extreme rides. In addition, they strive year after year to offer new, different and unique attractions to make Water World a pleasure to visit again and again.
However, there is also room for families with little ones, since they can safely have fun in the Kids WaterWorld area, and for people who want to rest and relax, they can always enjoy themselves in the Relax Lake and the Calm Lake, or unwind in the jacuzzis.
In addition to its unrivalled attractions, the park offers a wide range of services and facilities to make sure you have everything you need. When your tummy starts rumbling, you can have a bite to eat in any of the two bars-stands that you will find and, at lunchtime, there is a wide range for option to suit all tastes.
And if you want to bring your own food, don't worry, a picnic area is also available. All this and a lot more useful information can be found at the WaterWorld website.
AQUABRAVA (Roses)
With the largest wave pool in Europe as one of the main attractions, Aquabrava is designed for young people and families to enjoy the action and the excitement!
Apart from the wave pool, this water park is famous for its pool that fuses water and climbing, the Aquaroc. It consists of a 4.5 metre high climbing wall where visitors can try to reach the top. The reward? Jumping back into the water from such a great height!
Among the more than 20 attractions and roller coasters, the Cobra and the Black Hole are undoubtedly two iconic slides where you can share the thrills and spills with your friends on a float that will threaten to topple over at any moment!
For those looking for less extreme thrills to enjoy with the family, Anaconda and Amazonas make a sure laugh and unforgettable memories with your loved ones. You also have the option of heading to the relaxation pool or have a drink in the 3 tropical bars.
We know you don't want to miss it, so don't wait to find out their prices and opening times and start organising your visit to the magnificent Aquabrava water park!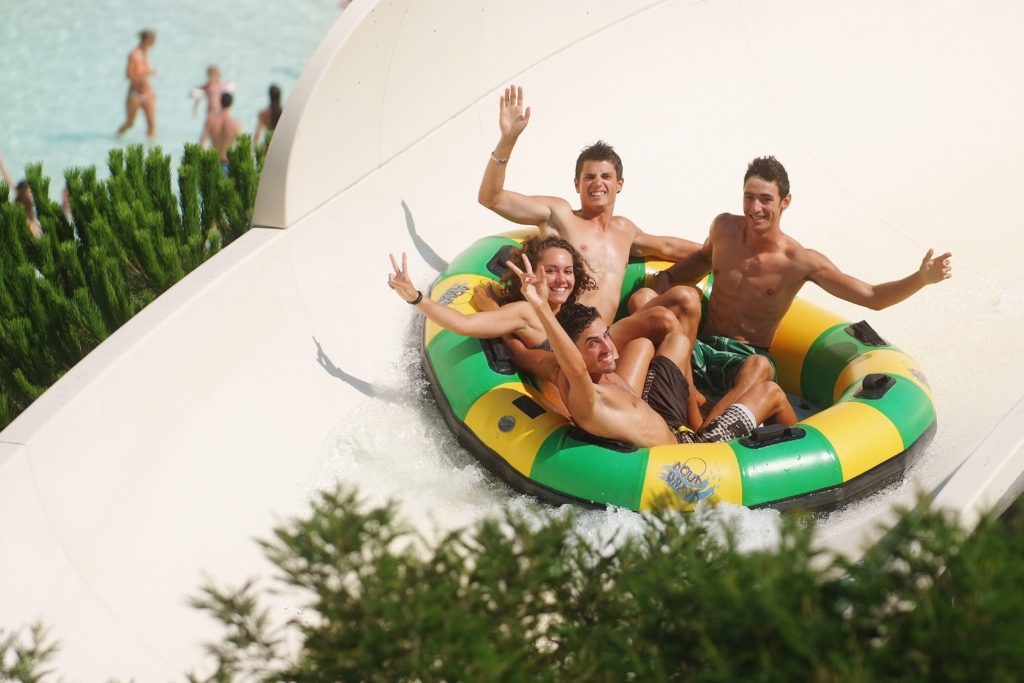 Campsites with water parks on the Costa Brava
After learning about the three water parks on the Costa Brava, Campings of Girona would like to tell you about the 7 campsites with their own water parks that you can find in the area, where both adults and children can enjoy themselves and have a great time while cooling off.
Choose the one that best suits you and your needs, but they're all great! Here they are:
📌 Aquapark – Camping Las Dunas (Sant Pere Pescador)
The Las Dunas Aquapark is a large swimming pool with slides inside the Las Dunas campsite. It is a favourite place for the little ones, where they can play, make new friends and enjoy their holidays.
After a day having fun on the five slides, with the bubbles and the "river" of water jets, you can't get the smile and expression of pure happiness off their faces. Even if they don't know how to swim, they can go to the paddling pool, where the shallow water allows them to enjoy the water safely.
Surrounding the entire Aquapark is a large solarium with sun loungers so that parents can relax and enjoy the sun while keeping an eye on the little ones. All in all there are 5000 m² of water to have fun and spend time with the family.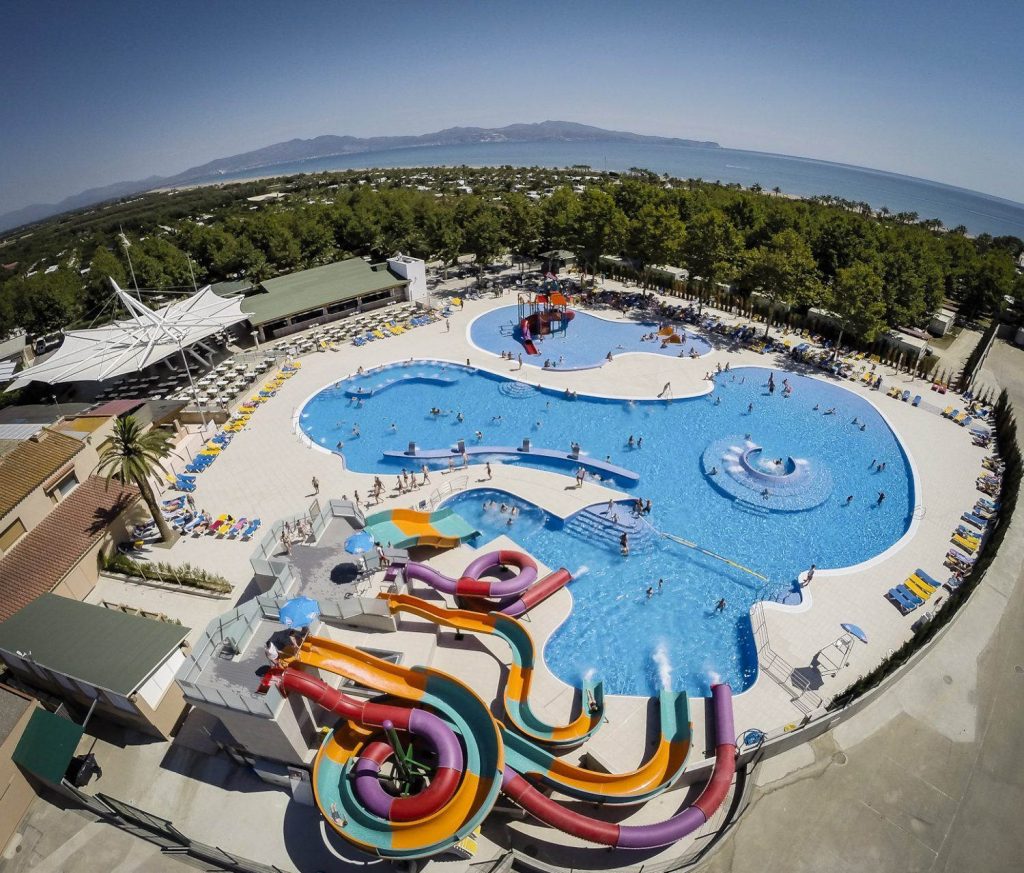 📌 Camping Sènia Cala Gogo (Calonge i Sant Antoni)
Slides for young and old and a large swimming pool area is what awaits you at Camping Senia Cala Gogo located in one of the main destinations on the Costa Brava, Sant Antoni de Calonge.
Endless afternoons of fun on the slides where the whole family can enjoy the exceptional facilities. In addition, the chill-out area is where parents can take advantage of the free time for long swims, relax in the jacuzzi area and hammocks and to recover from their stress with a bubble session.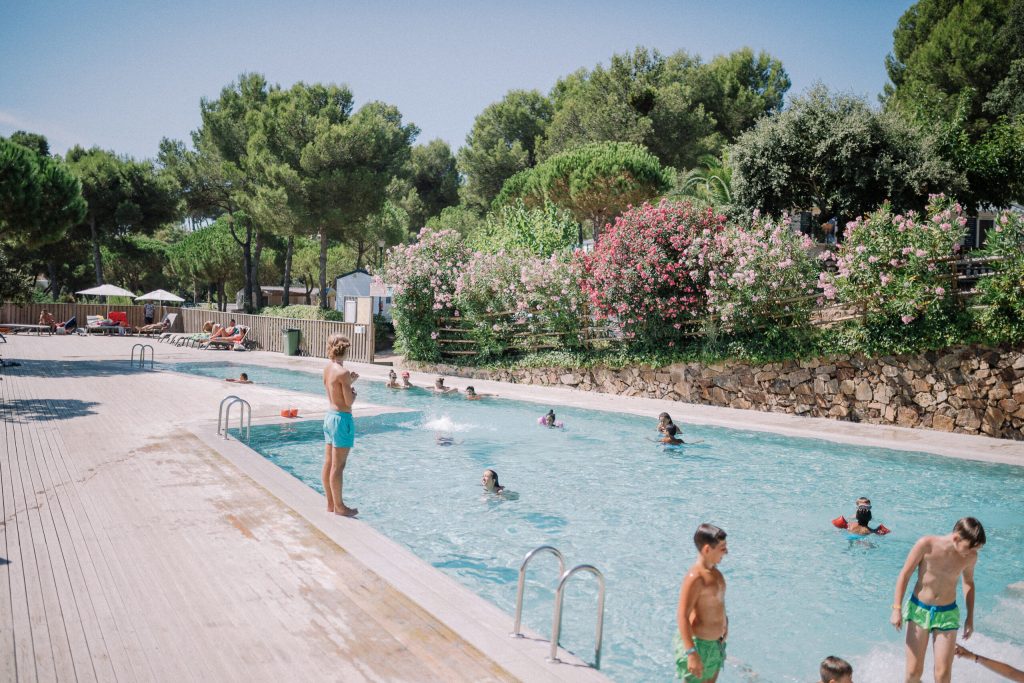 📌 Sènia Camping Tucan (Lloret de Mar)
A friendly crocodile and a turtle are the mascots in charge of soaking children of all ages in one of the resort's pools. With a total of 6 pools at Camping Senia Tucan the options for young and old are endless.
If you go with small children, paddling pools are the ideal and safest places for them, as they are shallow and monitored by the best lifeguards, so that they can swim safely. For the more adventurous youth, the slides with multiple loops will make them laugh non-stop!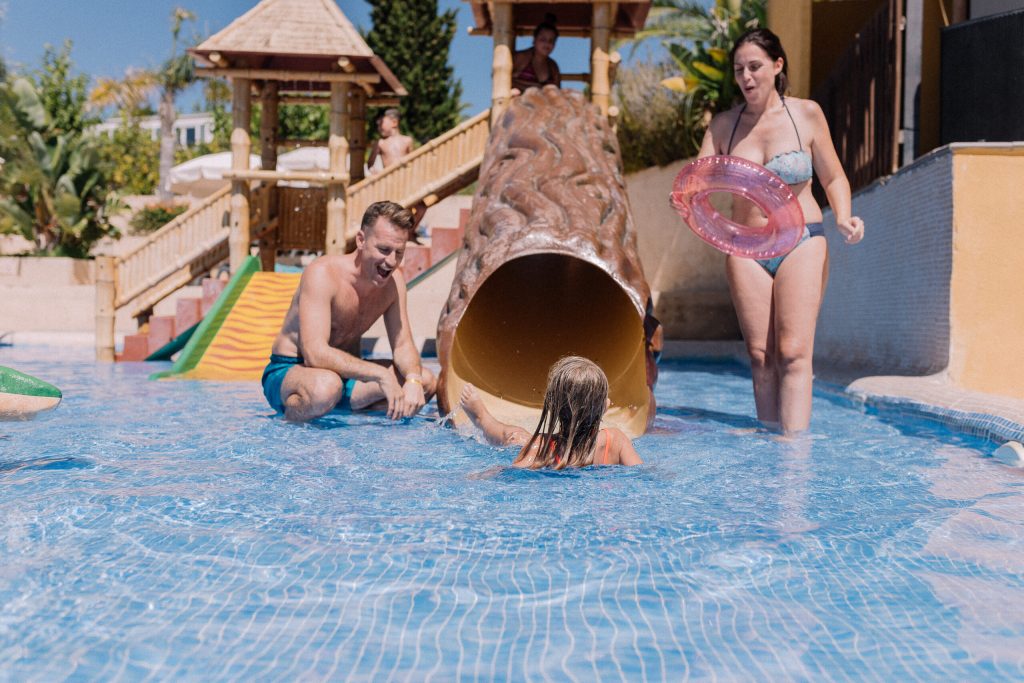 📌 Camping Cypstela Resort (Pals)
No doubt about it, Camping Cypstela is the ideal place to add a touch of water to your holiday. Here you will find a range of water activities ideal for families to enjoy during your stay.
While the little ones cool off and have fun in the pool with diving boards and slides, the youngsters can play at being pirates and buccaneers on the pirate ship and on the multi-lane slides, leaving the adults to relax in the hydromassage pool or on the sun terrace.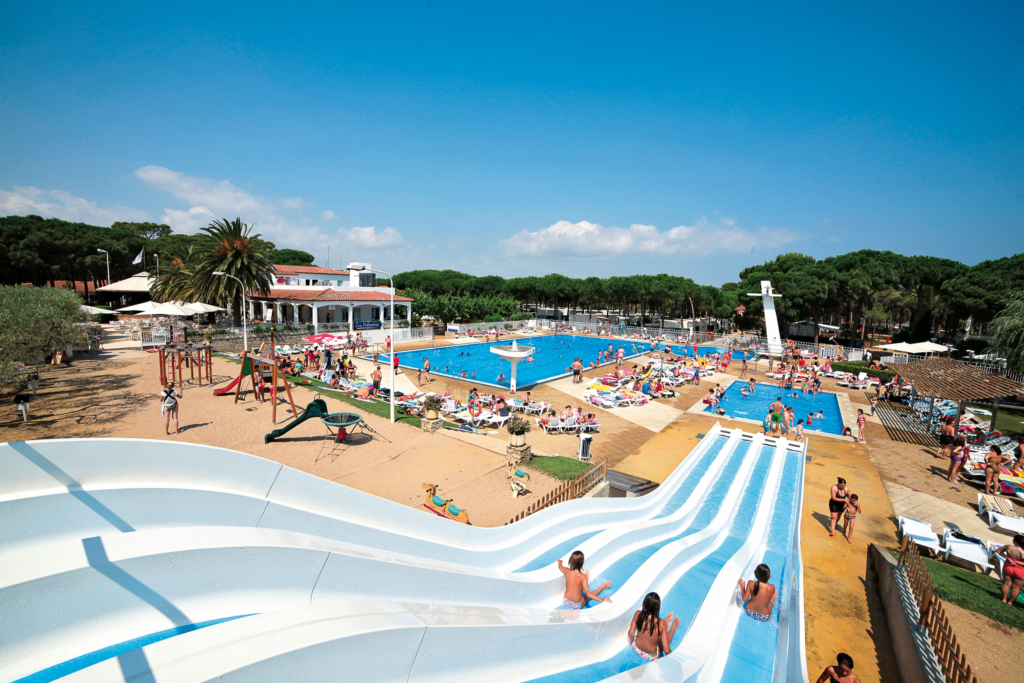 📌 Dolfi Water Park – Camping el Delfin Verde (Torroella de Montgrí)
In the Dolfi Water Park resort at Camping Delfin Verde you will find a water park with three swimming pools of different depths equipped with fortresses and defence towers, pirate ships, water castles, water jets, and a whole scenario recreated for the whole family to feel immersed in a pirate adventure!
The ideal place to enjoy with the family and where, as you will see, there is no place for boredom. And all this in an idyllic setting by the sea.
📌 Camping Àmfora (Sant Pere Pescador)
At the Camping Àmforayou can enjoy a 100% refreshing holiday designed so every member of the family can enjoy the water. In the resort you will find 4 swimming pools fully equipped and designed for the desires of the whole family.
There is space for those who want to swim and play at the same time in the children's pools with slides, diving boards and water slides, and also for those who are looking for peace and quiet in the pools in the spa area with jets, special massage currents and bubble pools. The secret to the best holiday is Camping Àmfora!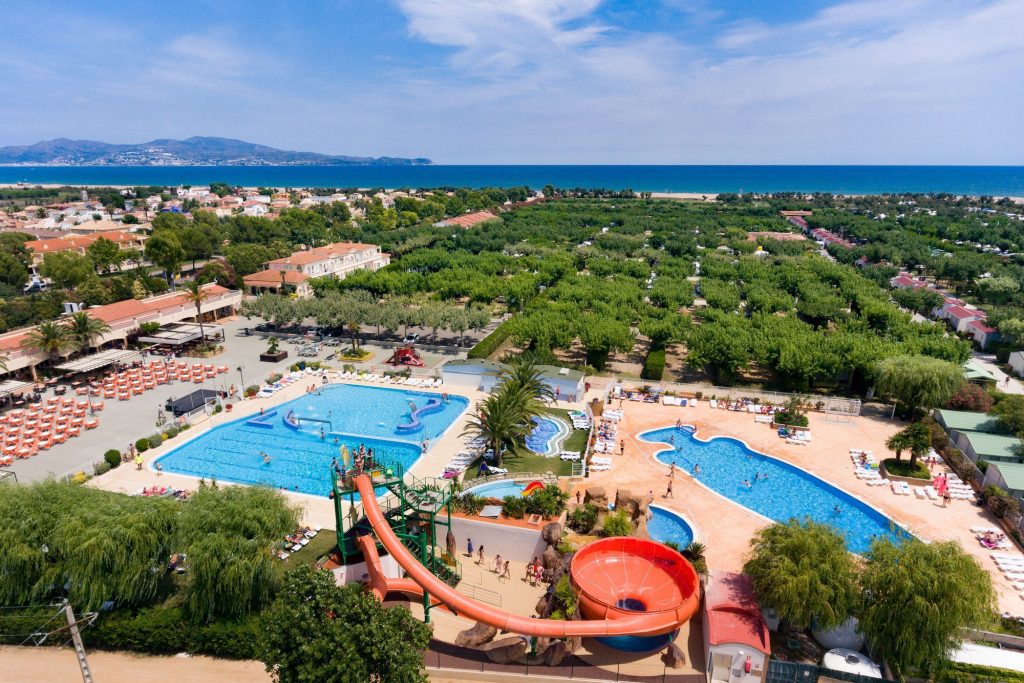 📌 Camping Valldaro (Platja d'Aro)
With a water park of 6 different swimming pools, the whole family can enjoy the sun and warm weather of the Costa Brava in their own way at Camping Valldaro.
The little ones can play mermaids and sailors in the paddling pool: a lighthouse, a mermaid and a boat is the ideal setting to imagine and have fun playing with water! In addition, if you like thrills, the rides include different slides of various heights where a great time is guaranteed.
Parents will find a whirlpool to relax in, a semi-Olympic pool for swimming and a beach-type family pool where they can participate in different organised activities.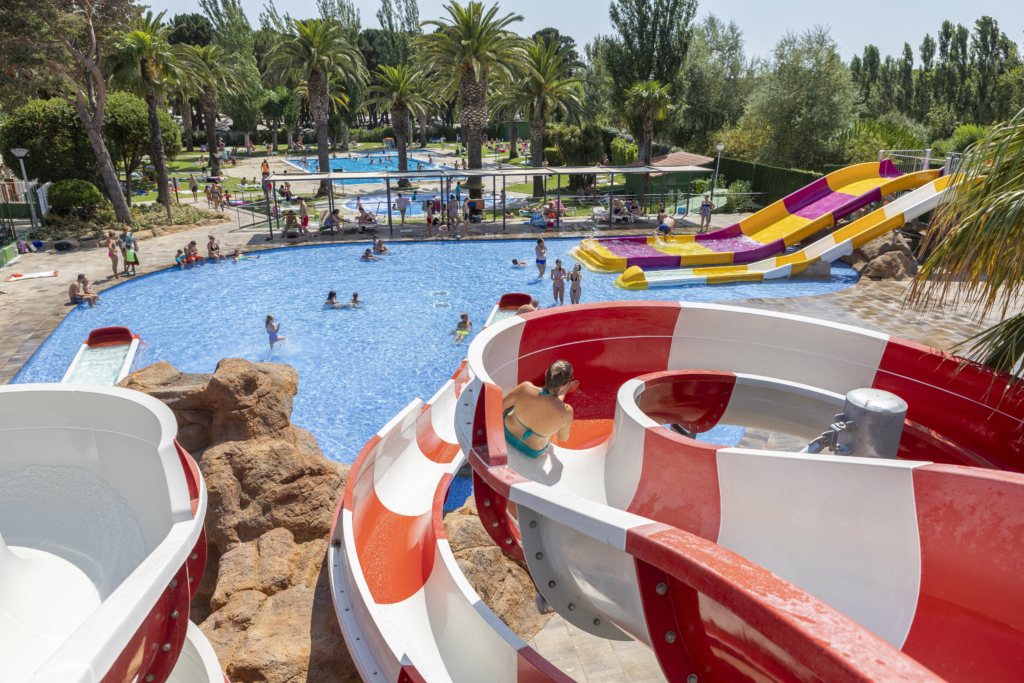 📌 Camping Castell de Montgrí (L'Estartit)
With three pools throughout the resort, a 4-person multi-slide and another with loops, at Camping Castell de Montgrí you will find everything you need to enjoy a fun holiday with the whole family.
This campsite is ideal if you are looking for a place in the midst of nature, with the Mediterranean forest, so characteristic of the Costa Brava, always in sight. Besides, if you get weary of the pools, you can always go to L'Estartit beach and take a ride around the Medes Islands!
The Water Sport Friendly label
Beyond the campsites with water parks, the Costa Brava, with more than 200 kilometres of beaches and coves, makes this small corner of the Mediterranean a perfect place to enjoy a wide variety of water sports. For this reason, water activities are an ideal complement to your holiday for the more adventurous.
Many of the campsites in Girona are distinguished by the Water Sport Friendly seal, awarded to campsites that are characterised by their location just a few metres from the sea and which allow you to do all kinds of water sports.
Among the main activities featured at the Water Sport campsites, we highlight diving, snorkelling, kitesurfing, surfing, windsurfing and paddle surfing, as well as kayak hire; although you should know that there is a much wider range of supervised water activities on offer. Few things can match the pleasure of these sports with the beauty of the beaches and coves of the Costa Brava!
A total of 20 campsites have the Water Sport seal, so you have a wide range of possibilities when it comes to choosing your destination. Do you prefer a dive in crystal clear waters or a pleasant kayak tour of magnificent coves? At Water Sport campsites you choose what you want to do!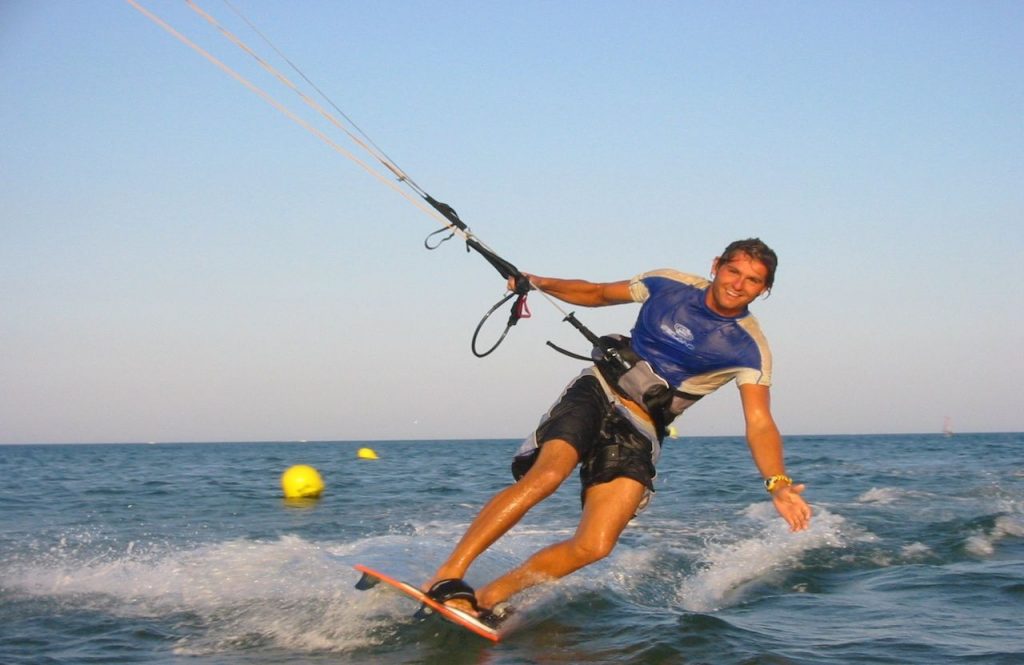 What do you need to enjoy a day at a water park on the Costa Brava?
Although water parks receive more and more visitors every year, not everyone knows what it takes to go to a water park. So, we will give you a brief list of essentials for enjoying a wonderful day at a water park, whether you are at a campsite or not.
Swimming costume: Yes. We know it's a no-brainer and you'll think it's useless for us to list it, but it wouldn't be the first time someone has forgotten. So remember, wear it!
Waterproof clothing and footwear: Although it is permitted to go barefoot inside the enclosures, for hygiene and comfort we recommend the use of waterproof footwear, such as flip-flops strapped to the foot or booties.
Sunscreen: It doesn't matter if you are as white as milk or browner than coffee. Although you can always take shelter under the shade, you will be spending many hours in the sun at water parks and should be well protected. Don't forget to apply it frequently!
Towel: Like the swimming costume, it seems like a no-brainer, but if you don't want to end up with a cold after hours and hours of soaking, so it's important not to forget one. It will also be useful for lying down on the grassy areas that you will find in the parks.
Personal documentation: Apart from the corresponding ID, it is necessary to carry your health card with you in case there is any unforeseen event or incident during your stay in the park that requires attention from the park's infirmary service.
Water: With so many hours in the sun and the high summer temperatures it is necessary to stay hydrated, even if you are constantly soaking in the pool or on the water slides. Don't worry if you haven't brought any from home, you can buy some at the bars, kiosks and restaurants in the parks.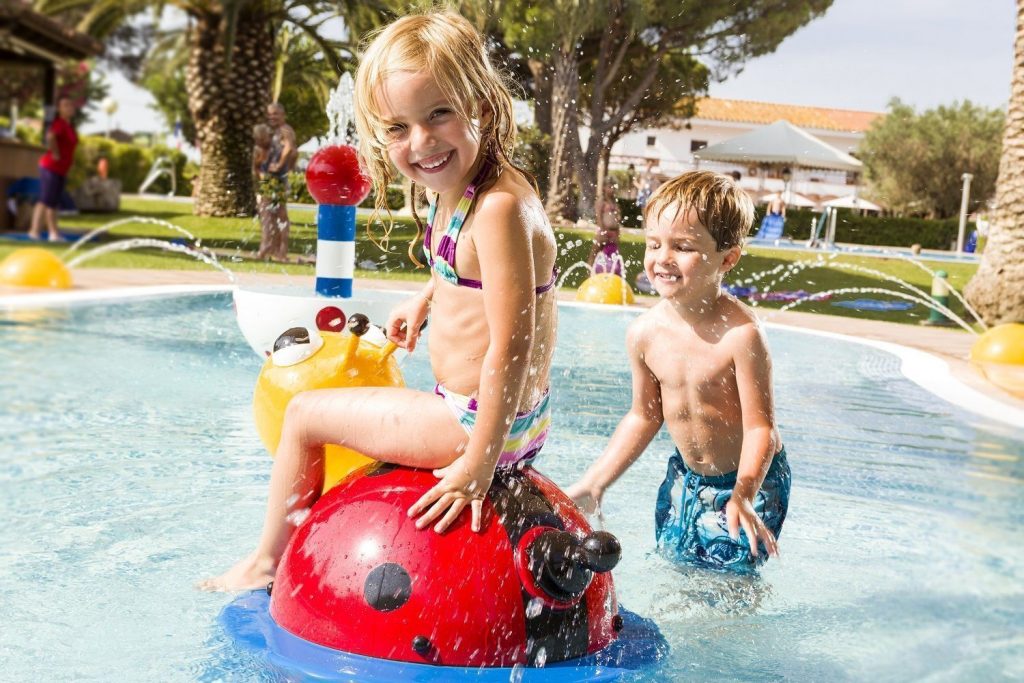 Now you have all the information you could possibly need about water parks on the Costa Brava! Whichever you choose, we're sure you'll have a stay with family or friends that you'll never forget and you'll enjoy the water endlessly when the heat gets too much.